TSRI Chemist Keary Engle Receives NIH's Outstanding Investigator Award
By Jim Schnabel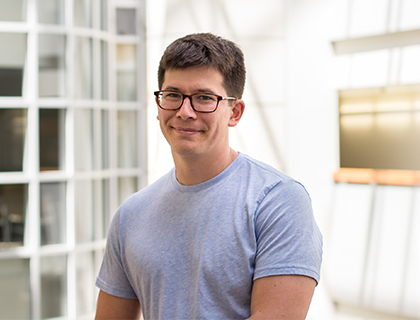 Keary M. Engle, an assistant professor of chemistry at The Scripps Research Institute (TSRI), has been awarded a $1.25 million grant from NIH's National Institute of General Medical Sciences (NIGMS). The R35 grant, also known as an "Outstanding Investigator Award" and "Maximizing Investigators' Research Award (MIRA) for Early Stage Investigators," will support the Engle Laboratory's development of powerful new molecule-building techniques for drug discovery.
The five-year award provides general, long-term support for research programs that are deemed especially promising. It is aimed at scientists who are just starting their careers to help free them from the usual pressure to compete for shorter-term grants.
"The Outstanding Investigator Award provides the security of knowing money is coming in without a competitive renewal in a couple years, so we can focus on the science rather than fundraising," Engle said.
Engle, 31, obtained his Ph.D. in chemistry from TSRI and D.Phil. in Biochemistry from the University Oxford in 2013 as part of the Skaggs-Oxford Scholarship program and after postdoctoral work at Caltech, returned to the Institute as a faculty member two years ago. His laboratory focuses on the development of chemical reactions to transform relatively simple, cheap, "feedstock" organic compounds into more complex molecules that could be highly valuable—as lifesaving drugs, for example.
"Methods for converting chemical feedstocks into structurally and functionally rich target molecules have been lacking, and that has really hamstrung a lot of drug discovery research," he said.
Engle's specific plan is an ambitious one: to develop a suite of metal-catalyzed reactions for adding two functional groups selectively to adjacent carbon atoms on alkenes and alkynes—two very large classes of organic molecules that include many cheap feedstock compounds. Adding functional groups side by side like this can be a quick way to make compounds that can engage a biological target. It's a challenging task, though, and the current methods for achieving it are often too cumbersome, limited in scope, and expensive for routine use.
Engle aims to develop more practical and sustainable methods that don't require dozens of steps, consume a lot of reagents, require extreme conditions or leave a lot of toxic byproducts—yet do give chemists the molecule-building power they need over a wide range of applications.
"Our goal is to develop an inherently combinatorial, catalytic platform for introducing any two functional groups to alkenes or alkynes in a programmable fashion," he said.
When fully realized, the platform should enable researchers to create with relative ease libraries of thousands of new compounds, including many that have never been practically accessible via organic synthesis, using cheap alkenes and alkynes. That in turn could mean the development of many new drugs and other chemical products, from laboratory probes to plastics.
Engle has collaborations underway with other, more pharma-oriented, scientists at TSRI and at TSRI's translational arm, Calibr, and has been making steady progress toward his goals. In one paper that came out earlier this month, he and members of his lab described a new reaction to add nitrogen- and carbon-containing groups across a carbon-carbon double bond in a highly selective way. The chemists demonstrated the new method by using it to prepare four existing drug compounds plus a variant of one of them.
"This new method shows that our chemistry can be a versatile tool for quickly accessing chemical motifs or structures that are known to be biologically active," Engle said. "We think that ultimately it will be a very powerful platform for making libraries of promising molecules for drug discovery."
After just two years in operation, the Engle Laboratory already employs a dozen graduate students and postdoctoral scholars and has several undergraduate and high school interns as well.
"Starting out, we were supported generously from TSRI funds and a donation from Pfizer, so we've been able to grow nicely before federal grant money kicked in, and now that the grant money is there too, we're on a healthy trajectory," Engle said.
Send comments to: press[at]scripps.edu