Scripps Florida NWiS Revitalized
By Cindy Brauer

The Network for Women in Science (NWiS) chapter at the Florida campus of The Scripps Research Institute (TSRI) is re-energized, its new leadership eager to strengthen a sense of community among women on campus. Through monthly meetings, career skills training, networking and social events, the new executive committee aims to enhance resources for female scientists' professional and personal lives.
"Our goals include serving as a source of knowledge and tools women can use to move forward in their professional careers," said Sany Hoxha, the group's new chair and a graduate student working on cancer biology in the Kissil lab. "For example, many jobs, including those in science, but especially in industry, require non-science-specific skills, such as people management, leadership, public speaking and organizational abilities."
Accordingly, Hoxha and the eight other members of the FL-NWiS executive committee—a mix of research associates and graduate students—are planning a host of on-campus events and workshops.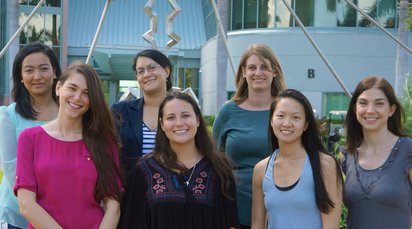 The Scripps Florida NWiS executive committee members include (back row, left to right) Pramisha Adhikari, outreach co-chair; M. Berenice Duran, treasurer; and Ina Fetzer, publicity; and (front row) Sany Hoxha, chair; Paige Dickson, co-outreach chair; Mei Lan Chen, vice chair and webmaster; and Ilaria Drago, vice-chair. Not pictured are Laurie Sutton, secretary, and Sophie Ziegler-Himmelreich, vice-chair.
The chapter also looks to off-campus skills enhancement opportunities, such as a local Women Connect group and the Life, Science and Technology Hub in Palm Beach.
But the chapter's most exciting and vital resource, agree its leaders, is the community of support the women provide each other. "When working in a lab, many scientists live in 'bubble'; it's easy to feel isolated and lonely. The NWiS network of women can help bring members out of this bubble for support," said Hoxha. "Through meetings and other activities, they find other women dealing with the same pressures and experiences to share."
"NWiS is a great forum for networking and meeting new people, while creating a sense of community among the women at Scripps," echoed chapter secretary Laurie Sutton, research associate in the Martemyanov lab.
Part of this support is consideration of issues relevant to women, particularly women in science. While men are welcomed to NWiS activities, the group provides "an environment for productive discourse of critical women's issues in the workforce," said NWiS Outreach Co-Chair Paige Dickson, graduate student in the Kodadek lab.
The format of the group's monthly meetings continues a tradition of following the business portion with a discussion of relevant women's issues, drawing from books or topical articles. One recent discussion centered on an Atlantic Magazine article, "The Confidence Gap," suggesting women's self-doubt is a common factor that can limit career advancement.
"NWiS at TSRI Florida comprises of bright and enthusiastic women from different departments and at various stages in their career," said Outreach Co-Chair Pramisha Adhikari, graduate student in the McDonald lab. "What is most exciting is to get together with these phenomenal ladies to initiate dialogues about various relevant topics, listen to each other's stories, perspectives and experiences and inspire and be inspired by one another."
"NWiS offers the opportunity to encourage and support women at a personal and professional level," says chapter treasurer M. Berenice Duran, research associate in the Luo lab. "Support in these areas is intertwined, and I believe one carries the other."
Scripps Florida NWiS general meetings are held on the second Wednesday of the month from noon to 1 PM. Additional information is available on the group's website. All NWiS events are open to the entire Scripps Florida campus.
Send comments to: press[at]scripps.edu