In Memoriam:
Gerald Edelman
(1929 - 2014)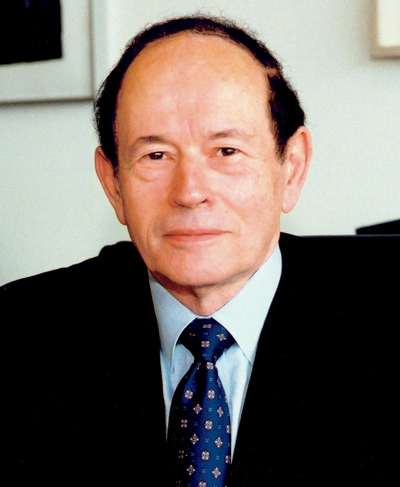 Nobel laureate Gerald Edelman, who was professor, former department chair and member of The Skaggs Institute for Chemical Biology at The Scripps Research Institute (TSRI), passed away May 17. He was 84.
"We offer our condolences to the Edelman family," said Michael Marletta, president and CEO of TSRI. "With Gerry's passing, the world has lost an independent and creative thinker with a true passion for knowledge. Throughout his long and productive career, he made significant research contributions to remarkably diverse areas of biology."
In 1972, Edelman won the Nobel Prize in Physiology or Medicine with Rodney R. Porter "for their discoveries concerning the chemical structure of antibodies."
Nobel Work
Antibodies are immune system proteins that detect and destroy the body's invaders such as bacteria and viruses. At the time of Edelman's work in the 1960s, a long-standing question was how an almost identical-looking population of antibodies could recognize an almost infinite number of foreign agents. Independent work by Edelman and Porter provided the answer.
The two researchers independently decided to approach the problem of antibodies' structure by splitting the large molecules into smaller, more manageable pieces. While Porter used a protein-cleaving enzyme to break the molecule into functional subsections, Edelman used chemical solvents to break the bonds that keep the antibodies' constituent protein chains together so he could determine each section's amino acid sequence.
Together, Edelman and Porter's findings revealed that antibodies are made up of two long, heavy protein chains and two identical shorter, light chains, comprising three sections that form a Y shape. At both points at the top of the "Y", a light chain is paired with a heavy chain to form a unique binding site for each target. Two heavy chains come together to form the unchanging stem of the "Y", which acts to bind other key components for mounting a targeted immune response.
A Life in Science
Edelman was born in New York City on July 1, 1929. At first embarking on a career as a professional violinist, he changed course to pursue science, earning a BS degree at Ursinus College magna cum laude (1950) and an MD at the University of Pennsylvania (1954). He spent a year at the Johnson Foundation of Medical Physics, and, after a medical house officership at the Massachusetts General Hospital, he served as a captain in the Army Medical Corps attached to the American Hospital in Neuilly-sur-Seine, France.  He returned to the United States in 1958, and in 1960 he earned a PhD at The Rockefeller Institute (now University), where he stayed on as a member of the faculty.
In 1992, he joined TSRI. In addition to his positions at TSRI, Edelman was director of The Neurosciences Institute and president of the Neurosciences Research Foundation.
After his early studies of antibodies, he began to look into the mechanisms involved in the regulation of primary cellular processes, particularly the control of cell growth and the development of multicellular organisms. With his laboratory colleagues, he focused on cell-cell interactions in early embryonic development, particularly in the formation and function of the nervous system. These studies led to the discovery of cell adhesion molecules (CAMs), which have been found to guide fundamental processes by which an animal achieves its shape and form.  In the book Topobiology: An Introduction to Molecular Embryology, Edelman laid out a plausible framework to explain how cellular and mechano-chemical interactions might yield animal form across both development and evolution.
He also became interested in the fundamental cellular processes of transcription and translation in eukaryotic cells, developing methods to construct synthetic promoters and to enhance translation efficiency, the latter of which may find broad use in the synthesis of biologic medicines.
Over more than three decades, Edelman formulated a detailed theory to explain the development and organization of higher brain functions, first presenting the process, known as neuronal group selection (TNGS), in the monograph, The Mindful Brain (coauthored by Vernon Mountcastle), and then in, in his book Neural Darwinism (1987).  He tested the major tenets of TNGS through the design of machines he called brain-based devices. Other books followed. In The Remembered Present (1989), he outlined a biologically based theory of consciousness; in Bright Air, Brilliant Fire (1992), he explored the implications of neuronal group selection and neural evolution for understanding the brain and mind. Wider than the Sky: The Phenomenal Gift of Consciousness (2004) and Second Nature: Brain Science and Human Knowledge (2006) offered reflections on how an understanding of the human brain and the phenomenon of consciousness might impact the nature of human knowledge itself.
In addition to books, Edelman authored more than 500 research publications over the course of his career. In addition to the Nobel Prize, Edelman was the recipient of numerous awards, including many honorary degrees. TSRI awarded him such a degree in 2010
Edelman is survived by his wife, Maxine, and three adult children, Eric, David and Judith Edelman.
The family has suggested that, in lieu of flowers, donations in Edelman's memory be made to the Athenaeum Music and Arts Library (1008 Wall Street, La Jolla, CA 92037, (858) 454-5872) or to Neurosciences Research Foundation (The Neurosciences Institute, 800 Silverado Street, Suite 302, La Jolla, CA 92037).
Send comments to: press[at]scripps.edu