In Memoriam: Arnold O. Beckman (1900—2004)
"Dr. Beckman's science and philanthropy left a lasting legacy on the Scripps Research campus, as well as on the face of American science, business, and education," says Scripps Research President Richard Lerner.
Rings of Support
Love was in the air for members of the Class of '04.
The Graduating Students
Their names, faces, advisors, and dissertations.

Cochrane Wins American Lung Association Award
Charles Cochrane, professor at Scripps Research, has won the American Lung Association's Live & Breathe Award, an annual award given for great strides in improving the lives of those who suffer from lung disease.
Aliahmad Selected for Canadian Graduate Fellowship
Second-year graduate student Parinaz (Paris) Aliahmad has received a Canadian fellowship from the province of Quebec, Le Fonds de la recherche en santé du Québec. Aliahmad was one of eight candidates out of 460 applicants to be chosen.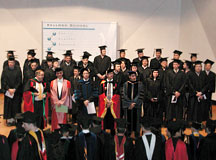 Scripps Research Holds Twelfth Commencement
Scenes from the 2004 commencement ceremony, starring 31 graduating students and honorary degree recipient Raymond A. Dwek of Oxford University.


Clips from the commencement:
Quicktime | Real Media |