In Brief

Cochrane Wins American Lung Association Award
Charles Cochrane, Immunology professor at The Scripps Research Institute, has won the American Lung Association's Live & Breathe Award, an annual award given to those in the San Diego and Imperial County region for great strides in improving the lives of those who suffer from lung disease. The association cites in particular Cochrane's discovery of artificial surfactant, which is used to treat some kinds of respiratory crisis in premature infants and adults. The award will be presented on June 13 during the Association's 100th Birthday Bash at the Paradise Point Resort in Mission Bay.

Aliahmad Selected for Canadian Graduate Fellowship
Parinaz (Paris) Aliahmad, a second-year graduate student of The Kellogg School of Science and Technology, received a Canadian fellowship from the province of Quebec, Le Fonds de la recherche en santé du Québec (FRSQ). Based on her proposal, Aliahmad was one of eight candidates out of 460 applicants to be chosen for the award. The three-year fellowship will support Aliahmad's graduate studies in Jonathan Kaye's lab on T-cell development within the immune system.

Career Workshop Series: Fellowship Writing
A workshop on fellowship writing will be held for Scripps Research faculty, postdocs, and graduate students on Wednesday, May 26, from 1:30 to 3 PM, as part of the Career Workshop Series. The event, which was arranged by Associate Professor Luc Teyton, the Counseling and Postdoctoral Services Department, the Society of Fellows, and the Network for Women in Science at Scripps, will feature:
Director of the Kresge Library Paula King speaking on "Administrative Resources";
Teyton speaking on "Overview of Administrative/Scientific Aspects";
Associate Professor Wendy Havran and Associate Professor David Schlaepfer speaking on "PI/Reviewer Perspectives";
Research Associate Julie Jameson speaking on "Postdoc Perspectives."
The event will be held in the Keck Amphitheater of the Beckman Center.

Health Care, Health Fair
Don't miss the fifth annual Health Fair on Wednesday, May 26 from 11 AM to 1 PM on the walkway in front of the Immunology Building. The event will feature health and wellness screenings, fitness and recreation demonstrations, chair massages, giveaways, and food samples from local restaurants. All Scripps Research employees and graduate students are invited to participate.

New English-as-a-Second-Language Class to Begin
A new English-as-a-second-language class will begin Tuesday, May 25. The class meets from 6:30 to 8:30 every Tuesday evening in the Immunology Building west conference room. The price for three months (12 classes) is $60.
Each intermediate-level English class is divided into speaking and listening, idioms and vocabulary, and reading and writing. If you would like to improve your English communication skills as well as understand your friends and colleagues, movies, television shows, and the news, this class is for you. The instructor uses movies, games, television shows, grammar books, songs, drawing and novels to teach standard American English. For more information, leave a message at x4-2176.

TB Screenings, Hepatitis B Vaccines, Serum Draws, and Tetanus Immunizations
On Monday, May 24, Wednesday, May 26, and Friday, May 28, personnel from Sharp Rees-Stealy Medical Group will be on-site to conduct TB screenings, Hepatitis B immunizations, serum draws, and tetanus immunizations. The clinics will be conducted at the Administrative Offices (3301 North Torrey Pines Court) on the P1 level from 11 AM to 2 PM. No appointments are necessary. TB screening requires a 48 to 72 hour follow-up. Individuals receiving the TB screen on Monday will need to return on Wednesday, and individuals screened on Wednesday, will need to return on Friday. Initiation of the TB screening process will not be available on Friday, but Hepatitis B immunization, serum draws, and Tetanus immunizations will be. To learn more about these programs, see the Environmental Health & Safety Occupational Medicine web page, which includes a map and patient information sheets.

News&Views to Begin Summer Publication Schedule
News&Views will be published every other week throughout the summer, beginning with the next issue, Monday, June 7. The deadline for announcement and calendar submissions is Wednesday at noon for the following Monday's publication.
Send comments to: mikaono[at]scripps.edu

Vendors Galore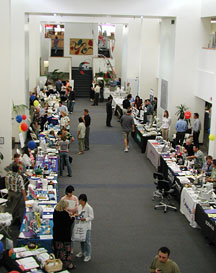 More than100 vendors were on campus on Thursday for the 2004 Vendor Show, sponsored by the Society of Fellows. Scripps Research Core Services also participated. The event gave scientists the opportunity to learn about new products, get caught up on the latest technologies, and talk with company representatives and Scripps Research support staff.