It's a Go: Florida Governor Signs Bill Funding TSRI Expansion
"All of us at Scripps are delighted and honored by the confidence placed in our institution by Governor Bush and the legislature on behalf of the people of Florida," said Richard A. Lerner, president of TSRI.

Researchers Discover a Genetic Cause for Primary Iron Overload
"There are probably multiple causes [of primary iron overload disease], and we have found one of them," says Professor and Department of Molecular and Experimental Medicine Chair Ernest Beutler.
On Press:
Observing a Single Solvent—Solute Association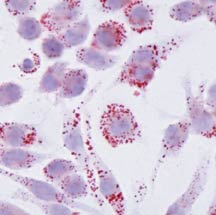 TSRI Scientists Link Ozone to Atherosclerosis

A team of investigators led by TSRI President Richard A. Lerner and TSRI Associate Professor Paul Wentworth, Jr., are reporting evidence for the production of ozone in fatty atherosclerotic plaques taken from diseased arteries.