In Brief
Burton to Speak in Faculty Lecture Series
Professor Dennis Burton will speak on "The Search for an HIV Vaccine" as part of the Faculty Lecture Series on Wednesday, November 12.
Other events in the 2003/2004 Faculty Lecture Series will include:
Professor Linda Sherman, "Using an Autoimmune Disease to Inform Immunotherapy," January 14;
Guest Scientist Kurt Wüthrich, "Viewing Proteins with NMR Eyes," January 28;
Professor Dale Boger, "Targeting Protein-Protein and Protein-DNA Interactions," March 10;
Professor David Nemazee, "Immunological Tolerance in B Lymphocytes," April 14;
Professor Carlos Barbas III, "Polydactyl Zinc Funder Proteins: Developing Strategies to Control and Discover Genes," May 12;
Associate Professor Benajmin Cravatt, "The Enzymatic Regulation of the Fatty Acid Amide Class of Neural Signaling Lipids, June 9.
All lectures will take place in the Timken Amphitheater, Green Hospital, at 5 PM. Receptions will follow in the Immunology Building Galleria.

Panda, TSRI Class of '01, Named Finalist for International Prize in Neurobiology
TSRI alumnus Satchin Panda of the Genomics Institute of Novartis Research Foundation was named a finalist in the 2003 International Prize in Neurobiology by the journal Science and the German biotechnology company Eppendorf. Panda's essay, "Shedding Light on Non-Image Forming Photoperception in Mammals," will be among the essays published at Science Online. Panda will also be recognized at the annual meeting of the Society for Neuroscience in November.

Want to Change Your Benefits?
Human Resources would like to remind all benefit eligible staff that this is the last week of Open Enrollment. Changes to your TSRI benefit selections and, if eligible, enrollment (or re-enrollment) in the healthcare and/or dependent care spending accounts for the 2004 plan year can be made up until 5 PM on Friday, November 14. Instructions on how to access the online system were mailed to participant homes. Kiosks are available in Human Resources for employees who DO NOT have computer access. Participants with questions regarding Open Enrollment should contact Human Resources at the Benefits Line, x4-8487. More information regarding Open Enrollment, including a schedule of events, is available at the Open Enrollment web site.

Free Flu Shots
TSRI will offer free flu shots to TSRI employees, research associates, and graduate students on Wednesday, November 12 and Thursday, November 13, from 9 AM to 4 PM, 3377 N. Torrey Pines Court, second floor, Room 205. Please bring a form of identification. A map is available online. For more information, call Benefits Administration, x4-8293.



Naval War College Group Visits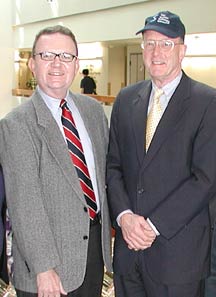 A group from the Naval War College in Newport, Rhode Island, spoke with TSRI scientists and toured TSRI labs Thursday. The delegation was led by Admiral James Hogg (Ret.) (right), shown here with Keith McKeown, TSRI vice president for communications and public relations. Photo by Kevin Fung.