Initiatives Promote Learning and Career Development for Postdocs
A number of initiatives—from changes in the Counseling and Postdoctoral Services Department to new grant writing seminars—aim to enhance postdocs' experience at TSRI.
Rhonda Torres
Meet Research Associate Rhonda Torres of the Case lab.
On Press:
AP-2 Not So Essential After All
Wittmann Wins Photomicrography Competition
TSRI Research Associate Torsten Wittmann won first place in the Nikon International Small World Competition, which is dedicated to furthering creativity and excellence in photomicrography. Wittmann's entry will be among 20 entries to tour 16 cities between December 2003 and January 2005.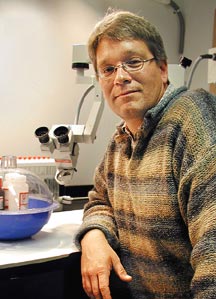 Serotonin Receptors and Drug Abuse
TSRI Associate Professor Loren Parsons thinks that one of the keys to understanding drug abuse is understanding the fluctuation of serotonin levels in the brain.