Rhonda Torres
Title: Research associate in the laboratory of Professor David Case.
Activities: Using computational chemistry software to perform quantum mechanical calculations and molecular dynamics simulations, then analyzing the results. "I enjoy comparing the results to experimental data. This often validates what we are doing and can suggest new directions for experiments."
Research Topics: Rev protein-RRE (RNA) interaction (crucial in the replication cycle of HIV-1) and the free energy of this binding. The proposed mechanism of a penicillin-like drug in a metallo-beta-lactamase (beta-lactamases are responsible for antibiotic resistance). Structure and electronic calculations of 4Fe-4S clusters in the active sites of proteins. The quantum mechanical investigation of magnesium ion-mediated catalysis in the hammerhead ribozyme.
Favorite Part of Job: "I like the variety of projects in the lab; it's a great opportunity to learn new things. If you have questions about certain techniques or experiments, you can walk down the hall or across campus to discuss them with people who are experts in that field."
Background: B.S. from the University of Nevada, Las Vegas. Ph.D. from the University of California, Santa Barbara. "I started my Ph.D. work in synthetic organic chemistry. My advisor, T.C. Bruice, wanted his students to have computational projects as well. I found I really enjoyed the computational projects, so I changed my emphasis."
Started at TSRI: 2000
Thoughts on TSRI: "This is a fantastic place for computational chemistry because there are so many world-class scientists here to work with. TSRI has a unique and intellectually stimulating environment—very collegial."
Career goal: A job in industry. Professional Organizations: Association for Women in Science, American Chemical Society. "They both have pretty active San Diego chapters."
Thoughts on San Diego: "The people are friendly. The weather is great. The coast is beautiful. I like everything except the housing prices."
Extracurriculars: Volunteer work with ScrippsAssists, maintaining trails at Torrey Pines State Reserve and Mission Trails Park, doing yard work for senior citizens, and helping out with the annual Senior Basket Project. "[Volunteering] offers a great opportunity to meet people from both Scripps and the community." Torres also hikes and takes photographs.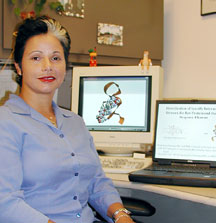 "[TSRI] is a fantastic place for computational chemistry because there are so many world-class scientists here to work with," says Research Associate Rhonda Torres. Photo by Kevin Fung.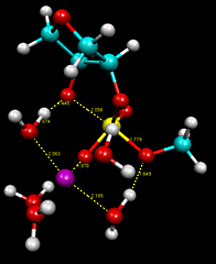 As part of her work in the laboratory of Professor David Case, Torres calculates transition states (TSs) corresponding to molecular events. Here, she shows the normal mode corresponding to TS1 in the Mg(II)-mediated phosphodiester hydrolysis [Torres et al. (2003) J. Am. Chem. Soc., 125, 9861-9867.] Click to play movie