How Do You Solve Relief—Structure of Pain-Modulating Enzyme Described by TSRI Scientists
A group of TSRI researchers has solved the structure of an enzyme that modulates central nervous system functions such as pain perception, cognition, feeding, sleep, and locomotor activity.
Luttrell Joins TSRI Board
Claudia S. Luttrell has joined the TSRI Board of Trustees. Founder and former CEO of Meadowlands Veterinary Hospital, Luttrell is active on the boards of a number of organizations.
Ruggeri Wins Ercole Pisello Award
Professor Zaverio M. Ruggeri has received the Ercole Pisello Award from the Associazione Giuseppe Corradi in Bevagna, Italy for contributions "of high relevance in the medical and scientific field."
C&E News Features TSRI
An article by Stu Borman in the November 25 issue of Chemical and Engineering News begins, "I couldn't help but be struck late last month when Scripps Research Institute groups reported, in just a week or so, novel therapeutic approaches to three different diseases, and a new way of looking at antibodies..."
Snapshot:
Karen Haggenmiller
Meet TSRI's new benefits analyst.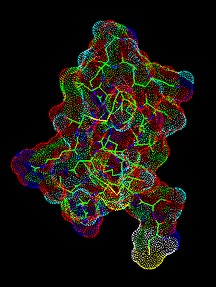 Tissue Factor in the Fight Against Tumors
"You can actually watch the tumors die right in front of you," says TSRI Professor Thomas S. Edgington.
On Press:
Yang and Schimmel Publish Study on Crystal Structure of Potent Angiogenesis Inhibitor