Karen Haggenmiller
Title: Benefits Analyst
Duties: Administers workers' Compensation and Leave of Absence programs for employees of The Scripps Research Institute (TSRI), and participates in the administration of all benefits in the Human Resources Department.
Goal: "I want people to feel free to call me with any questions! The sooner you let me know you will be going out on leave, the better. Give at least 30 days notice if at all possible."
Background: B.A. in psychology from the University of California at Santa Barbara. Seven years experience in the human resources field, with an emphasis on benefits.
Began at TSRI: November 11, 2002.
First Impressions of TSRI: "Coming from a human resources background, I was impressed by the hiring process and orientation procedures here-they were very well organized. Everyone has been very helpful and friendly and I have been busy since day one."
Extracurriculars: Home improvement—including painting, repair, and gardening—with her husband, Todd.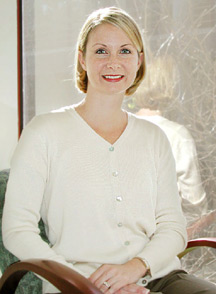 "I have been busy since day one," says Karen Haggenmiller, who began work at TSRI as a benefits analyst last month. Photo by Kevin Fung.