In Brief
Luttrell Joins TSRI Board
Claudia S. Luttrell has joined the Board of Trustees for The Scripps Research Institute (TSRI). Founder and former CEO of Meadowlands Veterinary Hospital, Luttrell is active on the boards of a number of organizations, including TSRI's Skaggs Institute for Chemical Biology, The Skaggs Family Foundation for Roman Catholic and Community Charities, the ALSAM Foundation, University Hospital Educational Resource Development Council, and the University of Utah's National Advisory Council. Luttrell is also a member of the Conductor's Circle Advisory Council and the Utah Museum of Natural History Associates. She has a long-standing interest in showing horses, and has won two U.S. national titles, a Canadian national title, and numerous other awards and titles in this field.

Ruggeri Wins Ercole Pisello Award
Zaverio M. Ruggeri, professor in the Department of Molecular and Experimental Medicine, head of the Division of Hemostasis and Thrombosis, and director of the Roon Research Center for Arteriosclerosis and Thrombosis, has received the Ercole Pisello Award from the Associazione Giuseppe Corradi in Bevagna, Italy. The prize is given in memory of Giuseppe Corradi, who is the founder of the Italian Society of Surgery and well-known designer of surgical tools. Presented annually, the Ercole Pisello Award honors an individual who has excelled in his/her area of research and whose contributions are "of high relevance in the medical and scientific field." Previous recipients include several Nobel laureates. Ruggeri's current research is aimed at understanding the biomechanical aspects of platelet adhesion and thrombosis formation.

C&E News Features TSRI
An article by Stu Borman in the November 25 issue of Chemical and Engineering News features the recent accomplishments of TSRI scientists. The article begins, "I couldn't help but be struck late last month when Scripps Research Institute groups reported, in just a week or so, novel therapeutic approaches to three different diseases, and a new way of looking at antibodies. Only shortly before, for the second year in a row, a Scripps scientist has won a Nobel Prize…" See "A Few Weeks in the Life of Scripps."

Theofilopoulos to Speak in Faculty Lecture Series
TSRI Professor Argyrios Theofilopoulos will speak on "Predisposing and Effector Genes in Systemic Autoimmunity," as part of the Faculty Lecture Series on Wednesday, December 11. The lecture will be held at 5 PM in the Valerie Timken Amphitheater, Scripps Clinic, 10666 North Torrey Pines Road.

Volunteers Needed to Assemble Baskets
Volunteers are needed to assemble baskets for the ScrippsAssists Senior Basket Project on Tuesday, December 10 and Thursday December 12 from approximately 4:30 to 7 PM (sandwiches provided). Children are welcome. Please RSVP, listing the day you are available, to plutnerh@scripps.edu. The group will be working in the 3301 building, P2 level. Signs will be posted.

Adopt a Family
The Adopt-A-Family Program is in full swing. Adopting a family means that you and your lab (or several labs together) or your family commit to helping a needy family have a good holiday. The idea is to provide the family with groceries (or a food coupon with which they can buy them) for a festive holiday meal with all the trimmings, some day-to-day necessities such as shampoo, toothbrushes, soap, etc., and modest gifts. Contact Bonnie Towle, x4-2167 or email-btowle@scripps.edu, or Kat Occhipinti, x4-8135 or email-occhip@scripps.edu.

TB Screenings, Hepatitis B Immunizations, and Serum Draws
On Monday, December 9, Wednesday, December 11, and Friday, December 13, personnel from Sharp Rees-Stealy Medical Group will be on-site to conduct TB screenings, Hepatitis B immunizations, and serum draws. The clinics will be conducted at the Administrative Offices (3301 North Torrey Pines Court) on the P1 level from 11 AM to 2 PM. No appointments are necessary. TB screening requires a 48 to 72 hour follow-up. Individuals receiving the TB screen on Monday will need to return on Wednesday; individuals screened on Wednesday, will need to return on Friday. Initiation of the TB screening process will not be available on Friday, but Hepatitis B immunization and serum draws will be. To learn more about these programs, see the Environmental Health & Safety Occupational Medicine web page, which includes a map and patient information sheets .

News&Views Holiday Schedule
News&Views will break for the holidays after publishing the upcoming Monday, December 16 issue. Regular weekly publication will resume on Monday, January 13. The deadline for announcement and calendar submissions is Wednesday at noon for the following Monday's publication .



Teachers See Science in Action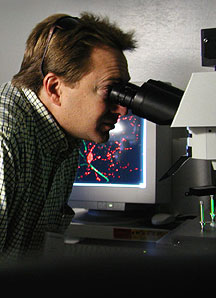 John Gaudi of Wangenheim Middle School was one of the teachers from the San Diego Unified School District who visited the TSRI campus November 19 to attend seminars on contemporary issues in the biosciences and to tour working labs. Here, he gets an up-close look at work in the Bartfai lab. Photo by Kevin Fung.