Treatments | AREDS Recommendations | Foods Containing Lutein | Dietary Flavonoids | Clinical & Research Updates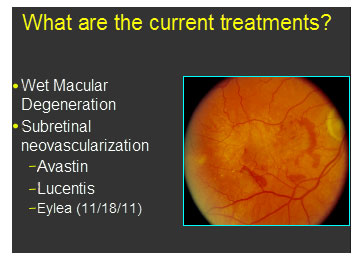 The wet form of macular degeneration is characterized by the growth of subretinal neovascularization, scar tissue and blood vessels which grow under the retina as a wound repair response to the injury caused by macular degeneration. If untreated, the subretinal blood will damage the photoreceptor cells and vision will be permanently damaged. This condition is treated with intraocular injections of either Avastin, Lucentis or Eylea. Each of these drugs blocks the growth factor, known as VEGF, which stimulates the growth of blood vessels and scar tissue under the retina. These medications have revolutionized the treatment of this disease and saved the sight of thousands of people who would have developed legal blindness before these drugs were available.
Lucentis and Eylea are both FDA approved for the treatment of subretinal neovascularization from macular degeneration. Clinical studies have shown that over 90% of patients show stabilization or improved visual acuity with these treatments. Avastin has been shown to be comparable to Lucentis in a large clinical trial, known as the CATT study. The results of the two year followup studies show no significant differences in visual acuity outcomes between patients treated with Avastin and those treated with Lucentis. Nonetheless, there are differences in the responses of these two drugs, and some retinal specialists have preferences for one over the other in certain clinical conditions. Eylea is a longer acting anti-angiogenic drug which can be used every two months, thus reducing the need for monthly injections. In the photos below, the beneficial effect of Avastin in a patient with wet macular degeneration is shown as the subretinal blood disappears over several months without scarring or visual loss.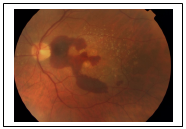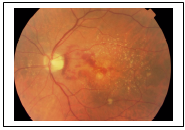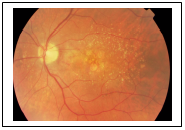 The treatment of dry macular degeneration emphasizes prevention with nutritional supplements; lutein which is present in dark green leafy vegetables, and omega 3 fatty acids, a component of fish oils and other healthy fats. What is the evidence that diet can influence the incidence of macular degeneration? Epidemiologic studies have shown that patients who ate three servings of spinach per week have a 43% lower risk of developing macular degeneration. Other studies showed that diets high in carotenoids such as lutein and zeaxanthin, are associated with a decreased risk of developing of macular degeneration. The carotenoids are colored pigments that accumulate in the macula and which can be thought of, in layman's terms, as a protective coating against light damage.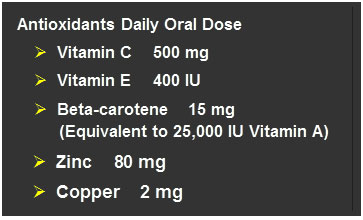 The National Eye Institute has published the results of a clinical study, known as the AREDS study, which demonstrated that a combination of vitamins and minerals, including copper and zinc, can reduce the incidence of progression to the advanced form of macular degeneration by 27 – 30 % over five years. The current dietary recommendations for patients with moderate to advanced disease in one eye includes Vitamins C, E, beta-carotene, copper and zinc.
New clinical studies are in progress for treatment ARMD, sponsored by the National Eye Institute. Known as the AREDS2 study, this trial is testing the benefits of adding high doses of lutein & zeoxanthin and/or omega 3-fatty acids (DHA & EPA) to the original AREDS formulation. The concentration of zinc is reduced to 25 mg and beta-carotene is eliminated. The results of this study are anticipated in several years.