Research Highlights and Selected Key Publications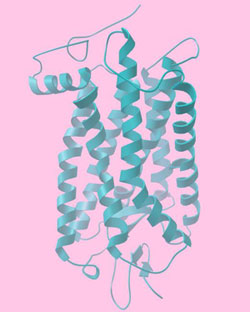 Macular Degeneration Research II: Our current research program is focused on the discovery of small molecules that can augment or enhance the chemistry of vision in the setting of macular degeneration.  We are specifically screening novel compounds that can improve the visual transduction cascade and be used for the treatment of patients with limited vision.
Key Manuscripts:
Modulation of opsin signaling by flavonoids (manuscript in preparation)
Hanneken, A., Harris, R., Olson, A.  Crouch, R.K., Cornwall, C., Johnson, J.L., M. Kono. 
Visual hallucinations from proton pump inhibitors are related to loss of horizontal-cone feedback mechanisms. (manuscript in preparation)
Hanneken, A., Babia, N., Thoreson, W.B.
 
Macular Degeneration Research I: Our research program focused on blocking the oxidative injury that leads to the progression of the dry form of macular degeneration. We identified a list of nutritional compounds from fruits and vegetables that protect cells from oxidative damage and enhance the cellular defenses to injury.  These compounds are highly recommended for healthy vision (Link to Nutritional Recommendations).
Key References: 
Flavonoids protect human retinal pigment epithelial cells from oxidative-stress-induced death.
Hanneken A, Lin FF, Johnson J, Maher P. Invest Ophthalmol Vis Sci. 2006 Jul;47(7):3164-77. PubMed Link
The flavonoid, eriodictyol, induces long-term protection in ARPE-19 cells through its effects on Nrf2 activation and phase 2 gene expression.
Johnson J, Maher P, Hanneken A. Invest Ophthalmol Vis Sci. 2009 May;50(5):2398-406. Epub 2008 Dec 30. PubMed Link
Angiogenesis Research:  In collaboration with Roger Guillemin (Nobel Laureate in Medicine and Physiology) and Dr. Andrew Baird, we provided the first demonstration that vascular endothelial cell growth factor (VEGF) is expressed in the human retina, (ARVO 1992).  These early studies led to a surge of interest in the potential role of VEGF as a primary angiogenic factor and spurred a number of investigators (including Drs. Joan Miller & Tony Adamis) to investigate the therapeutic potential of blocking VEGF in patients with retinal neovascularization.  This early work led the clinical development of therapeutic antibodies to VEGF, currently known as Avastin and Lucentis.
Growth Factor Regulation: Our laboratory was interested in understanding how FGF and other highly potent angiogenesis factors were tightly regulated in vivo.  As part of this pursuit, our laboratory purified and characterized the soluble FGF receptors from blood and other tissues, and showed these proteins were portions of the extracellular domain of the high affinity receptor, which could bind and sequester basic FGF in blood and tissues.  These studies demonstrated that endogenous mechanisms were in place to regulate the potent biological activity of FGF and other angiogenic factors. A soluble VEGF receptor fusion protein, known as VEGF –Trap or Eylea, has now been approved by the FDA for the treatment of wet macular degeneration. 
Key References:
Identification of soluble forms of the fibroblast growth factor in blood.
Hanneken, A., Ying, W., Ling, N. and Baird, A. Proc. Natl. Acad. Sci. USA 91:  9170-9174, 1994. [PubMed Link]
Structural characterization of the soluble FGF receptors reveals multiple isoforms generated by secretion and ectodomain shedding.
Hanneken, A. FEBS Letters, 489:176-181, 2001 [PubMed Link]