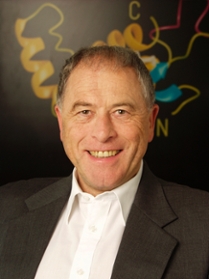 Kurt Wüthrich, Ph.D.
Cecil H. and Ida M. Green Professor of Structural Biology
Kurt Wüthrich shares his time between his position at TSRI and the position of Professor of Biophysics at the ETH Zürich in Zürich , Switzerland (see Wüthrich Group at ETH Zürich). At TSRI, he is a member of the Skaggs Institute for Chemical Biology, and a Co-Investigator in the La Jolla-based Joint Center of Structural Genomics (JCSG), the JCSG Center for Innovative Membrane Protein Technologies (JCIMPT) and the Functional and Structural Proteomics of the SARS-CoV Consortium. At the ETH Zürich he is the Deputy Director and a Principal Investigator in the National Center of Competence in Research Structural Biology (NCCR Structural Biology). His research interests are in molecular structural biology, protein science and structural genomics. His specialty is nuclear magnetic resonance (NMR) spectroscopy with biological macromolecules in solution. At TSRI, the Wüthrich laboratory pursues NMR-focused projects in structural biology and structural genomics. (see Current Research Projects).
Further information
Research Highlights and Selected Publications