Scientists investigate new strategy to treat spinal muscular atrophy in infants
By Madeline McCurry-Schmidt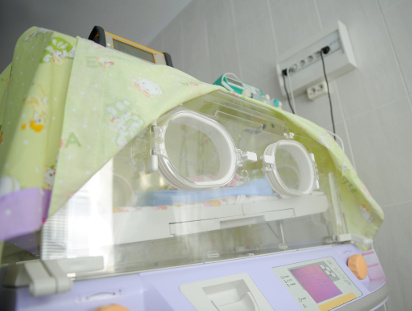 Spinal muscular atrophy (SMA) is a genetic disease that can leave infants with weak muscles and trouble breathing. Many with the disease die before age two. To help these patients, doctors need therapies that target the genetic mutation and stop its progression.
Now, scientists at the California Institute for Biomedical Research (Calibr) and The Scripps Research Institute have discovered how a potential new drug targets SMA. The research, published recently in the journal Proceedings of the National Academy of Sciences, could guide the development of other drugs for genetic diseases.
"In fact, if we can learn more about the drugs in the pipeline for genetic diseases, we can learn more about the diseases themselves," says Kristen Johnson, PhD, a principal investigator at Calibr and co-lead author of the study.
Until recently, patients diagnosed with SMA had no treatment options. The recent approval of a drug called nusinersen, marketed as Spinraza, has given families hope, and now scientists are working to design therapies that could be even more effective.
One potential drug is RG-7916, a small molecule currently in phase 2 clinical trials run by pharmaceutical company Roche (which no had involvement in this study). In the study, Johnson and her colleagues examined molecules similar to RG-7916 to better understand how the drug works.
"Understanding the mechanisms behind drugs is so critical for treating the right kinds of patients," Johnson says. "Plus, the more you understand about the mechanism of a drug, the better physicians can watch out for possible side effects."
The researchers suspected that to really be effective, RG-7916 would need to target a process called RNA mis-splicing. In addition to causing SMA, RNA mis-splicing is responsible for a family of devastating genetic illnesses, from Hutchinson–Gilford progeria syndrome, which causes premature aging, to Menkes disease, which causes severe neurological impairment and often kills patients before age three.
In these diseases, something has gone wrong in the way the cell reads the genome to produce proteins. During this process, threads of genetic information, called preRNA, need to be spliced into useful fragments. In SMA, molecules called splicing silencers mistakenly swoop in, blocking splicing and stopping the production of the protein, called survival of motor neuron (SMN).
Working closely with study co-leader Peter Schultz, PhD, president of Scripps Research, Johnson and study first author Jingxin Wang, PhD, discovered that analogs to RG-7916 indeed targeted the SMN2 pre-RNA sequence that causes SMA. With the drug molecule in place, the pre-RNA sequence became more flexible and is spliced correctly and ultimately leads to the full length SMN protein.
"This drug basically allows the equipment that drives splicing—which we call splicing enhancers—to sit on the preRNA in right location," says Johnson. "This causes the right fragmenting of the RNA so it produces the right protein." 
RG-7916 also binds to a nearby protein, and this combined pre-RNA and protein binding interaction makes the drug very specific for targeting the SMA mutation.
Roche has also published data showing that RG-7916 is targeting the pre-RNA splicing process. Johnson says the complementary studies are an encouraging sign that RG-7916 is on the right track, although it will still need to pass key toxicology studies and clinical studies. In the meantime, Johnson is excited to see if drugs to target RNA mis-splicing can be designed to help many more patients.
"For example, there are less severe forms of SMA that affect older kids and teenagers, but researchers have primarily tested therapies in infants," says Johnson. "We could use what we've learned to try to treat other forms of the disease."
There are only a handful of RNA-targeting drug candidates right now, Johnson says. By studying these drug candidates, scientists may be able to better guide the design of future pharmaceuticals and find more clues to what works and doesn't work.
"Now that we have more understanding of this class of drugs, could we build a small library of molecules to start tackling some of these other diseases," says Johnson.
The study, "Mechanistic studies of a small-molecule modulator of SMN2 splicing," was supported by the National Institutes of Health (grant R01 NS094721).
Send comments to: press[at]scripps.edu