Skaggs family makes "transformational" lead gift toward The Scripps Research Institute's Graduate Program endowment
By Diane Wilson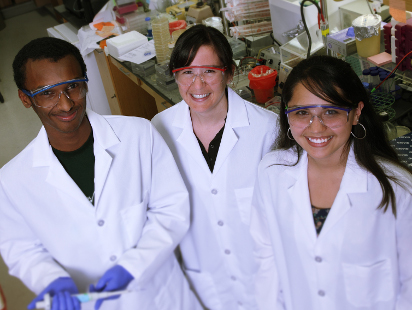 The Scripps Research Institute (TSRI) announced that the Skaggs family has made a lead gift through their foundations toward TSRI's $100 million campaign to establish fellowships for all students in its Graduate Program. In recognition of this gift, the program will be renamed the Skaggs Graduate School of Chemical and Biological Sciences. 
"This transformational gift by the Skaggs family to our Graduate Program is a vote of confidence in our continuing strategy of building excellence in education and research, which are inextricably linked," says Peter Schultz, TSRI president. "It recognizes the outstanding scientific discoveries that have been and will continue to be produced by the students of TSRI's top ten program." U.S. News & World Report has listed TSRI's Graduate Program—which operates on both of its campuses and enrolls 40 to 50 students per year—among its top ten Best Grad Schools for 18 straight years. According to Schultz, since its founding in 1989, the Graduate Program has placed over 100 alumni in faculty positions at major universities and colleges around the world. Hundreds more alumni, he says, have been placed in leadership roles in biotech and pharmaceutical companies.
The Skaggs family's gift will make it possible for individual supporters of the Graduate Program to donate $500,000 that will then be supplemented by an additional $500,000 from The ALSAM Foundation and the Skaggs Foundation for Research to create a $1 million endowment for an individual named student fellowship. Phil Dawson, the dean of Graduate and Postdoctoral Studies, emphasizes that members of TSRI's faculty and Board of Directors have made personal donations to the campaign, totaling more than $10 million to date. "We really value our students here at Scripps," Dawson says. "In fact, our Graduate Program was originally conceived and developed by Scripps faculty. Training the next generation of creative scientists is central to our identity."
The Skaggs family has a long history of supporting biomedical research at TSRI, helping to build it into an institution that Nature Index ranked #1 in the world for its "influence on innovation." "This latest naming gift continues the decades-long legacy of support of TSRI by the Skaggs family that propelled us to the forefront of technological innovation and transformational discoveries," says Jamie Williamson, executive vice president.
Beginning in the 1980s, food and drugstore pioneer L.S. "Sam" Skaggs and his wife, Aline, began making numerous financial gifts to the Institute, including underwriting the construction of The Aline W. & L.S. Skaggs Nuclear Magnetic Resonance Spectroscopy Center. In 1996, their commitment of $100 million—at the time, one of the largest gifts ever to higher education—created The Skaggs Institute for Chemical Biology. There, according to an Institute news release, an interdisciplinary team of scientists was created to "realize their full potential at the vital intersection of chemistry and biology," an effort that led to several drugs.
Although Sam passed away in 2013, followed by Aline in 2015, their strong philanthropic interest in scientific research and education is maintained by their children. Their son Mark Skaggs has served on TSRI's Board of Directors and their daughter Claudia Skaggs Luttrell currently plays an active role on the Board. In addition to her family's gift to the endowment campaign, Luttrell made a personal donation, as did her adult children, Dallas and Jennifer.
Jeff Kelly, the chair of Chemistry at TSRI, was one of the first faculty members to donate to the Graduate Program endowment campaign. His gift was doubled by the Skaggs' foundations. He calls the Skaggs family's philanthropic commitment a call to action. "For three generations—from Sam and Aline to their children and now their grandchildren—the Skaggs family has been generously supporting scientific research, higher education and drug discovery at TSRI. This latest gift toward ensuring that students in our Graduate Program receive a top-tier education will have a huge impact on our science for years to come. I couldn't be more grateful to Claudia and Mark, and their siblings, Don and Susie."
The Institute is planning to stage an event in late spring to celebrate the generous gift and the renaming of the program.
Send comments to: press[at]scripps.edu