TSRI Scientist Wins Prestigious Young Investigator Award
By Jessica Tran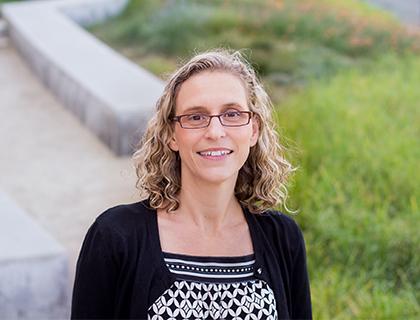 TSRI Staff Scientist, Kathryn Hastie.
Staff Scientist Kathryn Hastie of The Scripps Research Institute (TSRI) has won the 2017 William E. and Diane M. Spicer Young Investigator Award of Stanford Synchrotron Radiation Lightsource, for her persistent work to reveal the Lassa virus glycoprotein structure.
The Spicer Young Investigator Award is presented each year to a new investigator who has made significant technical or scientific contributions that are beneficial to the Lightsource community.
"It is an honor to be recognized for the years of work that I and my colleagues dedicated to this discovery," Hastie said. "We are excited to now use the structure to develop better, more effective therapeutics and vaccines."
"It was Dr. Hastie's tenacity and experimental creativity that brought this project to light," TSRI Professor Erica Ollmann Saphire said. "Finding a way to solve this structure was essential so we could move forward with vaccine development."
Lassa's Glycoprotein Structural Mystery Solved
Lassa fever is a severe and sometimes fatal hemorrhagic disease caused by the Lassa virus. There are hundreds of thousands of cases in West Africa each year, and it is the hemorrhagic fever virus most frequently transported to the United States and Europe. There is currently no vaccine and no specific treatment. Development of a vaccine that would elicit the necessary antibodies was a mystery, until now.
After nearly 10 years of research, a team led by Hastie and Saphire solved the Lassa virus glycoprotein's structure earlier this year. Hastie discovered Lassa's unique arrangement included three GP1-GP2 pairs coming together like a tripod. She also figured out how to engineer the protein so it would remain stable in the right form, to elicit the right immune response. This breakthrough provides a blueprint to design a Lassa virus vaccine.
Their work also explains why the cellular receptor only binds trimeric GP, the activity of mutations that determine disease severity, and provides the template to interpret the related proteins of other American and African hemorrhagic fever viruses – pathogens such as Machupo virus, Junín virus, Whitewater Arroyo virus and Lujo virus.
Hastie and Saphire's breakthrough discovery was published in the journal Science. Moving forward, the next step is to test a vaccine that will prompt the immune system to target Lassa's glycoprotein in the places that their work indicates are the most vulnerable.
Send comments to: press[at]scripps.edu