Scripps Florida's Network for Women in Science Welcomes Max Planck Florida to Group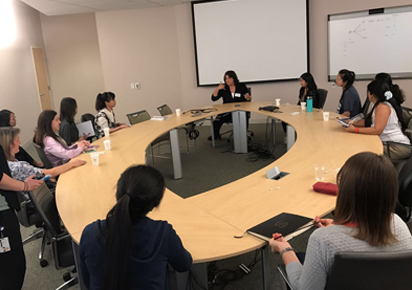 The new group gathered for their first joint meeting on March 15, 2017. (Photo courtesy Sany Hoxha.)
The Network for Women in Science Florida (NWiS) is getting a little bigger—by a factor of two, as a matter of fact. This March, the organization, which was founded in 2012, welcomed Max Planck Florida's students and employees to form the Scripps and Max Planck Network for Women in Science.
"We currently have more than 60 members at Scripps Florida and expect to increase this number to 100 after the merger," said Sany Hoxha, current chair of the group and a graduate student in the Kissil laboratory. "Since we have been developing the network for quite a while, we saw this merger as the perfect opportunity to reach a larger audience and work with diversified members."
The mission will remain the same: to help train female scientists to operate at their full potential.
"We want to build on the sense of community among the women at Scripps Florida and Max Planck to create a place to discuss women's issues such as balancing career and family—and selecting a career path," Hoxha said.
The first joint meeting with Max Planck was held on March 15, 2017.
Send comments to: press[at]scripps.edu