Graduate Students Lead the Way at Saturday Science
By Madeline McCurry-Schmidt

Graduate students at The Scripps Research Institute (TSRI) know that finding an enthusiastic mentor can make a big difference in a scientific career. That's why many of them volunteered at the latest Saturday Science outreach event for local San Diego high school students.
The April 23 event, which was part of a year-long series, began with a panel of eight PhD students who answered questions about their careers so far; for example, what should students do in high school to prepare for college-level science classes?
"Coming to something like Saturday Science is a great start," graduate student Rigo Cintron-Colon of the Conti lab told the audience.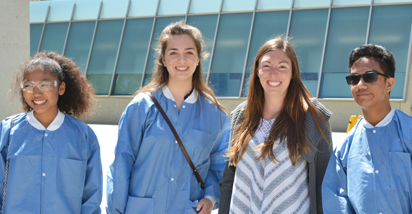 Recent TSRI graduate Jessica Bruhn (second right) mentored San Diego high school students and led lab tours as part of TSRI's Saturday Science series. (Photo by Madeline McCurry-Schmidt.)
Jessica Bruhn, a member of the Ollmann Saphire lab, added that the many years of study can be rewarding. "What keeps me going is the sense of discovery," she said.
Mariah Moore, a freshman at Crawford High School, is already thinking about a career in science. She always liked learning about plants, animals and the human body—why not come to TSRI to meet actual biologists?
"I'm hoping to learn interesting stuff about the human body that I can bring back to class," said Moore.
Moore's classmate, sophomore Gina Milan, had been to previous Saturday Science events and said the lab tours were a highlight. "The labs are awesome," said Milan. "And they do very cool demos."
The latest Saturday Science didn't disappoint.
Following an eye-opening lecture on immunology and the Ebola virus from TSRI Professor Erica Ollmann Saphire, students met with graduate student mentors and visited biology and chemistry labs across campus. After donning safety gear, students had the opportunity to study brain slices, retrieve protein crystals and even make ice cream using liquid nitrogen.
"Saturday Science makes science so approachable," said volunteer Shirley King. "Young people can see themselves doing this someday."
Saturday Science is funded by the Farrell Family Foundation and overseen by TSRI's Office of Graduate Studies, with the support of King, TSRI Professor Art Olson, TSRI Professor Emeritus Charles Cochrane and Whitney Wagner of the Office of Graduate Studies. Schools participating in this year's program also included Trivium Preparatory Academy, Lighthouse Christian Academy, Monte Vista High School and Mar Vista High School.
For more information on the Saturday Science program, visit http://education.scripps.edu/community/california/science_saturdays/index.html.
To view videos of past Saturday Science lectures, visit http://www.uctv.tv/series/Saturday-Science-at-The-Scripps-Research-Instititute-799
Send comments to: press[at]scripps.edu