Friends, Food and… Chemistry
By Madeline McCurry-Schmidt

Who knew wine and research made for such a good pairing?
On March 9, scientists and community supporters came together for the second event in the "ResearcHERS" series, hosted by the Female Faculty Group at The Scripps Research Institute (TSRI). Attendees enjoyed a wine and hors d'oeuvres reception and caught up on TSRI's cutting-edge research.
The event, which aimed to highlight the work of female scientists at TSRI, featured Professor Donna Blackmond, who spoke on the wonders of chemistry and the problem-solving that goes into developing new therapeutics.
"I'd really like for people to see what it takes to make a drug—the amazing collaboration and science," said Blackmond.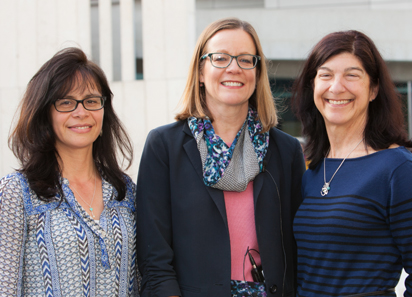 Professor Donna Blackmond (center), here with Assistant Professor Sandra Encalada (left) and Professor Martha Fedor, was the featured speaker at the recent ResearcHERS event. (Photo by Melissa Jacobs.)
Blackmond's work focuses on a phenomenon called "chirality"—when molecules look like mirror images of each other. Chirality affects how we smell or taste certain molecules, but it can also manifest itself in the action of pharmaceuticals. Blackmond explained how a molecule shaped one way can be a useful drug, while its mirror-image can be toxic in the body. She and her colleagues at TSRI are working on new methods to produce exclusively one of the two forms of key chiral molecules to create more effective drug therapies.
"From a layman's point of view, she was excellent," said attendee Barbara Doren, a TSRI donor. "She explained chirality in a way anyone could understand, and you could see her excitement coming through."
Another member of the audience, K. Barry Sharpless, the W.M. Keck Professor of Chemistry and member of the Skaggs Institute for Chemical Biology at TSRI, was enthusiastic about Blackmond's scientific contributions. Sharpless himself received the Nobel Prize in Chemistry in 2001 for his work in chirality.
At a reception after the lecture, attendees mingled with TSRI female faculty studying diseases that included breast cancer, diabetes, Alzheimer's and Ebola virus.
Although the ResearcHERS lecture series is new to the institute, TSRI President Steve Kay noted that female leadership has been crucial to the institute since 1924, when philanthropist Ellen Browning Scripps founded the institute's predecessor organization, The Scripps Metabolic Clinic.
"Strong, smart women have been fundamental to the institute since its very beginning," said Kay. "Ellen Browning Scripps believed in biomedical research. She saw how powerful it could be."
The next ResearcHERS event will take place in June. For information and reservations, contact Chelsea Luedeke at cluedeke@scripps.edu or 858-784-7083.
Send comments to: press[at]scripps.edu