Leading Philanthropists Attend Conference on Scripps California Campus
The Scripps Research Institute (TSRI) recently hosted two full days of lectures and activities as part of a conference that drew philanthropists and special guests to San Diego from around the world.
The Cavendish Health Impact Forum featured speakers including philanthropists and community leaders Malin Burnham, Irwin Jacobs, Bob Klein and Denny Sanford, TSRI Acting President and CEO Jim Paulson, TSRI faculty members including Professor of Genomics Eric Topol, and scientists and executives from other San Diego research institutions.
"We were honored to host the Cavendish Foundation families for two days of the Cavendish Forum," said Paulson. "It was a wonderful opportunity to network with the participants and introduce to them the entrepreneurial spirit of TSRI that underlies our history of turning basic discoveries into products that impact human health."
Cavendish Global, whose clients include family offices, their foundations and sovereign wealth funds from around the world, supports impact investment, grant making and sustainable philanthropy within the health and life sciences.
"The Forum was on our campus for a few days, but the relationships with Cavendish and their clients have just started," said Chris Lee, Scripps California director of philanthropy.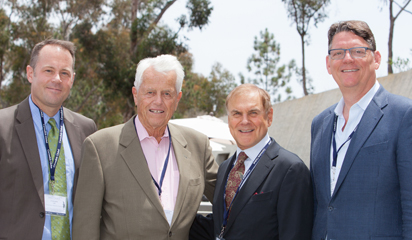 Scripps California Director of Philanthropy Chris Lee, philanthropist Malin Burnham, The Jed Foundation co-founder and board chair Phil Satow and Cavendish Global President Alex Charlton (left to right) chat on the Scripps California campus. (Photo by Melissa Jacobs.)
Conference attendees included representatives from the Michael J. Fox Foundation, Helmsley Trust, Staglin Family Foundation, The Pew Charitable Trusts and other philanthropic organizations.
TSRI faculty presenting on topics from cancer research to synthetic biology included Kristin Baldwin, Claudio Joazeiro (who initiated the connection with Cavendish Global), Ardem Patapoutian, Floyd Romesberg, Hugh Rosen, Andrew Ward and Xiang-Lei Yang. Lectures were held in Scripps California's architecturally and acoustically renowned Auditorium at TSRI, the Keck Auditorium and Committee Lecture Hall, and tours were offered of TSRI's state-of-the-art microscopy suite.
The conference also featured leaders in the biotech industry, including companies co-founded by TSRI researchers, such as aTyr Pharma. Other sessions focused on the business of philanthropy and investing in high-impact research. All events on the institute's campus were open to TSRI faculty and senior staff.
The four-day program was co-hosted by University of California, San Diego; J. Craig Venter Institute; Sanford Consortium for Regenerative Medicine; and Institute of the Americas.
Send comments to: press[at]scripps.edu