FAU, Scripps Florida, Max Planck Announce Plans for Research and Education Collaboration
Three neighboring institutions in Jupiter, Florida—Florida Atlantic University (FAU), The Scripps Research Institute (TSRI) and Max Planck Florida Institute of Neuroscience—have announced plans for a collaboration to create education programs that will attract the best and brightest students to Palm Beach County and strengthen Palm Beach County's position as a hub of scientific inquiry, innovation and economic development.
The three institutions will build on existing relationships to further scientific discovery and education through shared resources and facilities. They will also provide undergraduate and graduate students the opportunity to enroll in degree programs on FAU's MacArthur Campus in collaboration with Max Planck and Scripps Florida, enabling students to work and study alongside some of the world's leading scientific researchers.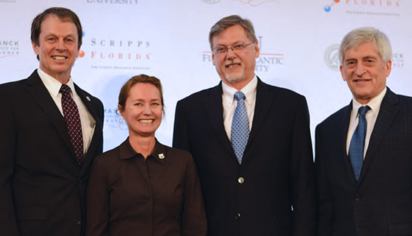 Speakers at the March 2 event announcing the alliance included (left to right) John Kelly, president of FAU; Mary Lynn Magar, Florida State representative; David Fitzpatrick, CEO and scientific director at Max Planck; and Jim Paulson, acting president and CEO of TSRI. (Photo courtesy of FAU.)
FAU President John Kelly said the alliance will help cure diseases, develop drugs, educate students and generate jobs, enhancing FAU's economic impact—which for 2010-2011, the most recently available data, was estimated at $6.3 billion.
"We will create the knowledge economy of the future," said Kelly. "FAU, Max Planck and Scripps will solve real-world problems and take strides to improve human health. This initiative will give us a unique opportunity to greatly increase our impact on Florida's economy and truly demonstrate how 'the whole is greater than the sum of its parts.' "
A shared facilities environment will provide students access to state-of-the-art scientific equipment. Max Planck and Scripps Florida researchers will have access to FAU faculty, teaching space and research equipment.
James Paulson, acting president and CEO of The Scripps Research Institute, said the institute's goal is to build a world-class biomedical research presence in Florida for the benefit of human health and to train the next generation of scientists.
"We believe this new agreement strengthens our existing collaboration with FAU and the Max Planck Institute and enables us to work more closely with our local partners to achieve these critical goals," Paulson said.
David Fitzpatrick, CEO and scientific director at Max Planck, said, importantly, the collaboration will increase research funding in areas of common interest. The Max Planck Florida Institute's research focus is neuroscience, specifically, gaining insights into brain circuitry. The institute uses some of the world's most advanced technologies in the field.
"Combining our resources makes this collaboration a potent force in the scientific and healthcare fields," Fitzpatrick said. "The advances we can take in many important research areas will be significant. Together, FAU, Max Planck and Scripps will train the scientific leaders of tomorrow."
To watch a video of the March 2 announcement at FAU, see https://vimeo.com/121043794
Send comments to: press[at]scripps.edu