Joseph Kissil Named Scripps Florida 2014 Outstanding Mentor
By Cindy Brauer

For his personal warmth, inspiration and accessibility, Associate Professor Joseph Kissil has been named the 2014 Outstanding Mentor by the Scripps Florida Society of Research Fellows. (SF-SRF).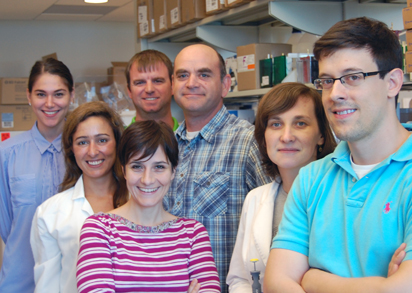 The Scripps Florida 2014 Outstanding Mentor Associate Professor Joseph Kissil, center, stands with team members (left to right) Sany Hoxha, Susana Moleirinho, Silvia Licciulli, Scott Troutman, Kissil, Nina Alekseeva and William Guerrant. Lab members also include Smitha Kota and Vinay Mandati. (Photo by Mike Matrone.)
"What made Dr. Kissil stand out among the 15 distinguished Florida faculty members nominated for the award were the sincere and inspiring letters from his trainees, all of whom highly praised Dr. Kissil's mentorship and guidance," said Mike Matrone, program coordinator for the Career and Postdoctoral Services office who helped SF-SRF organize the award program. "It was clear that Dr. Kissil exemplified The Scripps Research Institute's mission to educate and train researchers preparing to meet the scientific challenges of the future."
Kissil, who joined The Scripps Research Institute (TSRI) Department of Cancer Biology in 2012, considers his primary task as a mentor as guiding his students in developing "scientific thinking"—which he believes includes the scientific method, critical thinking and seeing "the big picture." His reward is witnessing trainees "develop to the point of being independent thinkers." Over the past decade, he has mentored some 30 students, postdoctoral fellows and technicians.
Descriptions of openness, relatability and scientific leadership echo in the letters nominating Kissil for the mentorship award. Remarks include:
"Through his leadership, enthusiasm towards science and role modeling, the lab is infused with a spirit of collaboration and dedication to one's peers…  His true gift as a mentor is serving as a role model for how to live life. It speaks volumes about him that on more than one occasion my colleagues told me that they sought out his advice in times of distress."
"He is a successful PI, yet he did not sacrifice his personal life and family, and he hasn't lost touch with the genuine values of science: the striving for discovery and the intellectual honesty."
"He actually understands and remembers what becoming a scientist and dealing with life mean… Even though our group is big, we feel part of an optimistic family. He always encourages people to keep going because he sees bigger avenues for us to pursue."
The Scripps Florida Outstanding Mentor Award was established in 2012 to recognize principal investigators for accessibility, supportiveness, propensity for providing constructive criticism and concern for mentees' future career. Previous winners include Associate Professors Laura Niedernhofer and Christoph Rader.
For further information about Kissil's research and team members, visit his lab website at http://www.scripps.edu/kissil/.
Send comments to: press[at]scripps.edu