A Summer of Science
From curious elementary and high school students to focused undergraduates and dedicated teachers, 2013 summer science programs at The Scripps Research Institute (TSRI) brought a cross-section of the community into labs on the California and Florida campuses.
Starting Early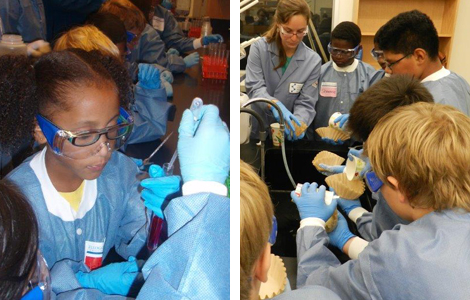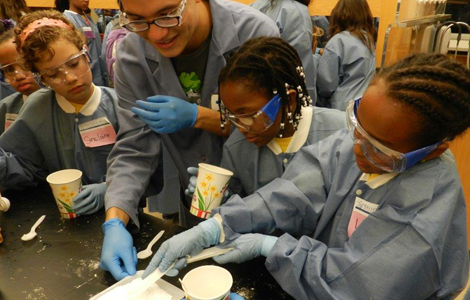 During their visit to the Scripps California campus, children from the Elementary Institute of Science (EIS), an award-winning science enrichment program, rotated through green chemistry activities arranged and conducted by Jamal Malik and Keary Engle with fellow graduate students. The EIS youngsters, ages 7 to 9, made glue from powdered milk, tested a pH indicator constructed of cabbage, and used M&M candies to learn about the concept of E-factor, a measure of waste produced in chemical processes.

Hands-On Lab Experience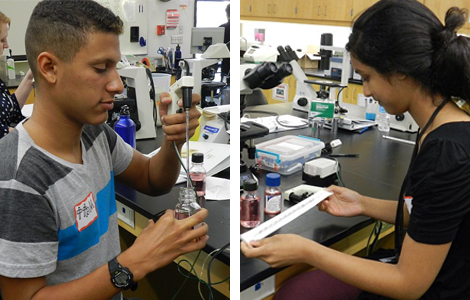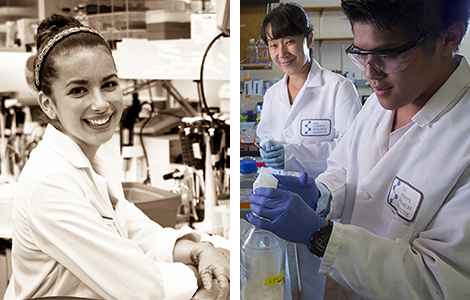 Scripps California's High School Student Research Education Program offered summer internships to select high school students. Working with the San Diego Life Sciences Summer Institute, 21 local high school students were chosen from 307 applicants. Top right: Matt Wood (left) of San Diego's University City High School, works in the Paulson lab. Top left: Sara D'Souza of Canyon Crest Academy interns in the Loring lab. Bottom left: Camille Considine of Francis Park High School interns in the Thomas lab. Bottom right: Research Associate Tingting Liu (left) watches her mentee, Dustin Nguyen, work in the Zhu lab.
Expanding Horizons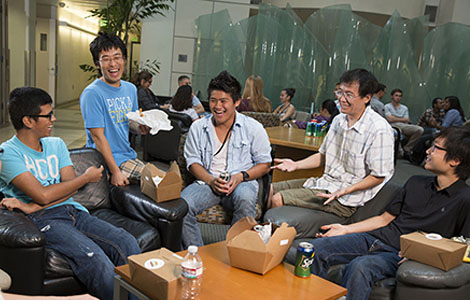 In addition to providing hands-on lab experience, the high school program included seminars on contemporary issues in biomedical research. Shown here during a lunch break are (left to right) Pedro Gomez of Gompers Preparatory Academy, graduate student Wentao Chen, Dustin Nguyen of Crawford High School, Research Associate Jiajia Dong and Leonard Yoon of Canyon Crest High School.
Exploring Stem Cells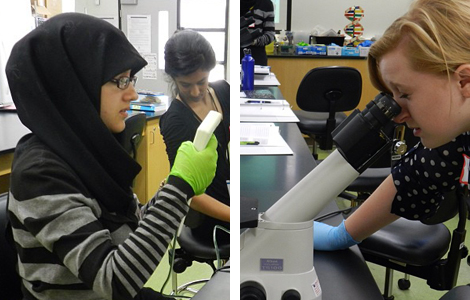 Nine of the Scripps California interns, including Fyezah Nazir (left) of Mira Mesa High School and Heather Macomber of High Tech High International, participated in the California Institute for Regenerative Medicine (CIRM) program for students hoping to pursue a career in science and research. CIRM-funded interns took an additional cell culture class at Miramar College and presented posters at the CIRM conference in San Francisco. For a "mash up" of videos by CIRM-sponsored interns, see "21st Century Stem Cell Scientists."
Other sponsors of TSRI California interns included the American Chemical Society, San Diego Workforce Partnership, Hearst Foundation, McCarthy Foundation and the TSRI Kellogg School of Science & Technology.
Scripps Florida's Kenan Fellows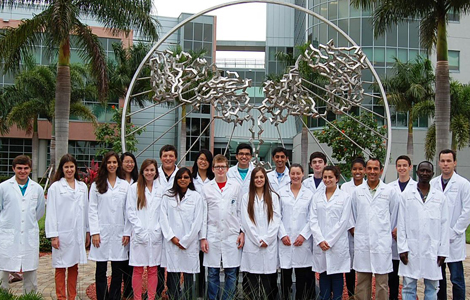 The Florida campus hosted "Kenan Fellows"—16 high school students and 3 science teachers—in the summer program made possible by the William R. Kenan, Jr. Charitable Trust, a foundation that supports K-12 education.
Summer of Learning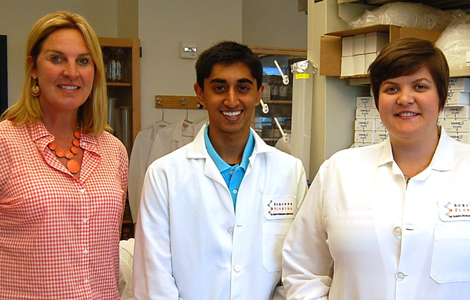 Like their peers on the California campus, the Florida high school interns learned basic lab techniques, experimental design, data analysis and scientific communication skills. Here, Professor Laura Niedernhofer (left) and Research Associate Sara McGowan (right) welcome Sanjay Chandrasekhar (center) from Suncoast High School.

A Bridge to the Classroom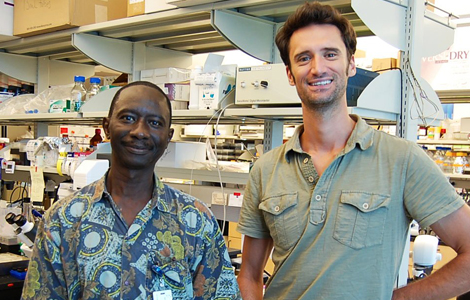 Teacher interns used the lab experience to develop new curriculum to bring back to their classrooms in the fall. In the lab of Assistant Professor Brock Grill (right), teacher Momodou Jobe sought to develop a hands-on classroom experience with C. elegans to teach basic neuroscience and genetic principles. Jobe traveled more than an hour each day to the Jupiter campus from Glades Central Community High School, a Title I school primarily serving low-income families.
Beyond College Classes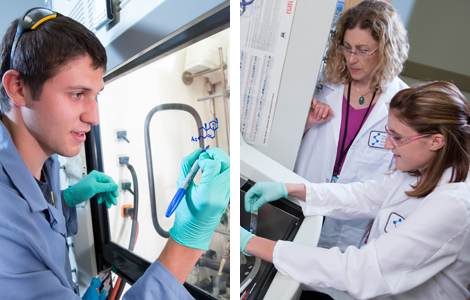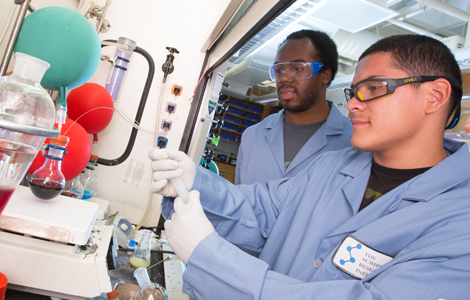 In the Summer Undergraduate Research Fellows (SURF) program on both coasts, college students were matched with a TSRI faculty member to craft and conduct a research project. Top left: Michael Giambrone from Cornell University works on a project in the Baran lab. Top right: Professor Velia Fowler (left) guides Emily Dubuc of Western New England University. Bottom: Graduate student M. Greg Tabor watches as Cesar Deleon from California State University, Dominguez Hills, tackles research in the Shenvi lab.
New Journal Club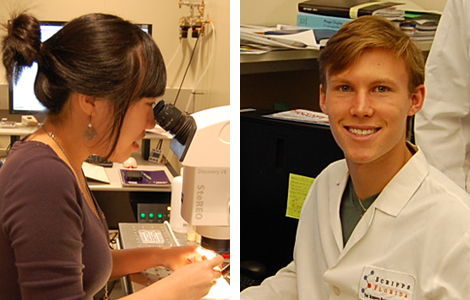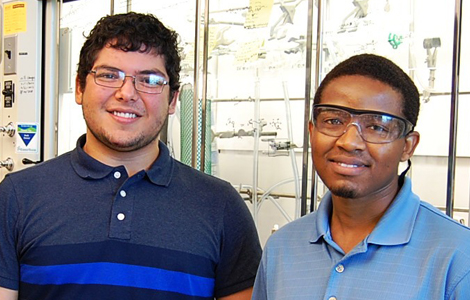 In a new component of the SURF program in Florida, interns led a weekly journal club, moderated by postdoctoral fellows, which examined a paper by a TSRI faculty member. Interns then submitted short essays suggesting follow-up experiments based on the paper and attended a research seminar by the paper's author. Top left: Kathi Jindachomthong of Yale University interns in the Tomchik lab. Top right: Working in the Rader lab, Greg Poore from Duke University was a returning Kenan Fellow this summer, following his internship when attending Suncoast High School. Bottom: Intern Sebastian Guevara Zuluaga (left) from the University of Puerto Rico poses with his mentor Lee Pedzisa, a graduate student in the Roush lab.
Sharing their Experience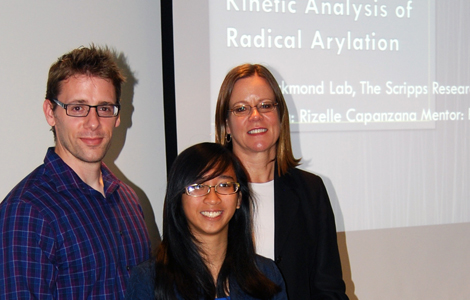 As their final intern activity, interns on both TSRI campuses delivered oral presentations to lab members, family and peers describing their summer research and experience. Shown here, Professor Donna Blackmond (right) and Research Associate Ryan Baxter (left) congratulate Morse High School intern Rizelle Capanzana following her presentation on "Kinetic Analysis of Radical Arylation."
Photos by: Cindy Brauer, ODonnell Photograf, and Jeremy Pyle
Story by: Cindy Brauer and Mika Ono
Send comments to: press[at]scripps.edu