Structure Shows How One Human Protein Reduces Potency of Chemotherapy
A structure solved by the Tainer lab offers a foundation for improved cancer drug development.
On Press: The Impact of Backbone Hydrogen Bonds
Measuring the influence of "H-bonds" on protein folding and stability.
Snapshot: Ann Marie Wellhouse
Meet Ann Marie Wellhouse, a high school science teacher who is interning at Scripps Research for the summer.
Brunel Wins amfAR Fellowship
Research Associate Florence Brunel of the Dawson lab has won a fellowship from the American Foundation for AIDS Research (amfAR) for her research working towards an AIDS vaccine.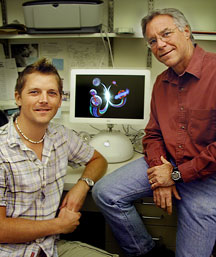 A Mystery Solved
Associate Professor Curt Wittenberg and Research Associate Robert de Bruin describe the molecules that control the initiation of cell cycle in yeast.