Scripps Research Selects Two Florida High School Teachers for Summer Internships in California
"We welcome Audra [Davis] and Scott [Morone] as the first representatives of Palm Beach County, Florida, the site of Scripps Research's recent expansion," says Jennifer O'Sullivan, director of the internship program on the La Jolla, California campus.
David Milsom
Meet David Milsom, HR's new records supervisor.
Lerner Receives Honorary Degree from Florida Atlantic University
Scripps Research President Richard A. Lerner received an honorary degree from Florida Atlantic University on April 30.
Behrens, Hedlund, and Kenny win Young Investigator Awards
The National Alliance for Research on Schizophrenia and Depression have honored Scripps Research Assistant Professor M. Margarita Behrens, Research Associate Peter B. Hedlund, and Research Associate Paul J. Kenny with Young Investigator Awards, which provide support for promising young neurobiologists.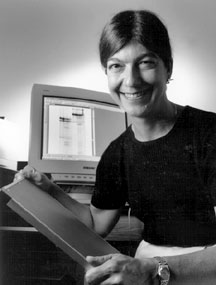 Ribozyme Reversal of Fortunes
"Our field is a wonderful one," says Associate Professor Martha Fedor. "People are very good about saying, 'Everything we thought we knew was wrong.'"