Three New Members Join TSRI Board
At a recent meeting of the TSRI Board of Trustees, Gary N. Coburn, Thomas E. Dewey, Jr., and Ralph J. Shapiro were appointed members.
Faculty Promotions Announced
John Yates, III, has been promoted to full professor. Benjamin Cravatt, III, Ann Feeney, Wolfram Ruf, and Erik Sorensen are now associate professors with tenure. Henrik Ditzel made associate professor, and Kenneth Fish and Hidehiro Kishimoto, assistant professor
TSRI Professor Wins Mayo Soley Award
TSRI Professor Eng Tan of the Department of Molecular and Experimental Medicine has been chosen as the recipient of the Western Society for Clinical Investigation's 2002 Mayo Soley Award.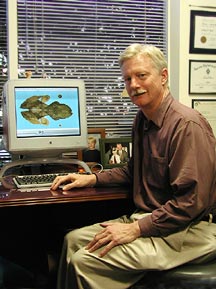 "Why does 10 to 15 percent of the population become alcoholic and the rest of the population does not?" asks TSRI Professor George F. Koob.