TSRI Science Watch
Now that the human genome has been sequenced, some TSRI researchers are playing a key role in a new scientific venture: an initiative to understand the structure and function of proteins.
"I can compare the art of the synthesis of a target molecule to the game of chess. If you watch master chess players and you follow their moves in getting to the king, you can appreciate their mastery of the art, their ingenuity, their cleverness..." An interview with chemist K.C. Nicolaou.
The American Chemical Society has awarded Vice President for Academic Affairs and Dean of Graduate Studies Jeffery Kelly the Arthur C. Cope Scholar Award, which recognizes excellence in the field of organic chemistry. The society has awarded Professor Peter Schultz the Alfred Bader Award, which recognizes outstanding achievements in bioinorganic or bioorganic chemistry.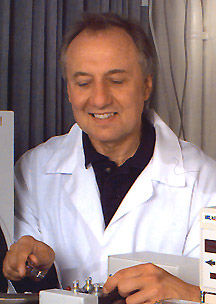 TSRI Professor Ian Wilson heads The Joint Center for Structural Genomics.