In Memoriam:
Ward Coppersmith
(1952-2014)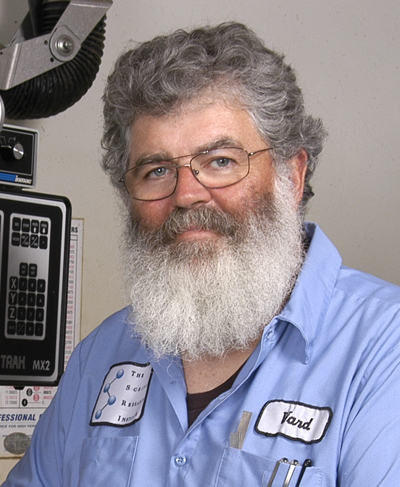 Ward Coppersmith, director of The Scripps Research Institute (TSRI) Instrumentation and Design Laboratory on the La Jolla campus, passed away May 7. He was 61. A gathering at TSRI on May 15 celebrated his life and more than 35 years of service to the institute.
"Ward was a warm, genuine and caring man, as well as a meticulous and highly skilled craftsman in his trade," said Emily Holmes, vice president of research services. "We were lucky to have him as part of the Scripps community for so many years. He will be deeply missed."
At TSRI and its predecessor organization Scripps Clinic and Research Foundation (SCRF), Coppersmith and his longtime colleagues in Instrumentation and Design helped researchers customize their labs by designing and building equipment, modifying tools and repairing machinery.
"We focus on service," he said in a 2001 interview for an article in News&Views. "Whatever the scientists need, we do. That's why we're here."
Coppersmith and his colleagues held patent 4,496,657 for inventing an innovative microplate washer, and he was listed as an author on a number of scientific publications. Early on in his career at Scripps, Coppersmith's contributions were recognized with SCRF's William H. and Ruth Black Employee Achievement Award.
Born October 9, 1952, Coppersmith grew up in Southern California, graduating from Hollywood High School in Los Angeles. Before joining Scripps, he held several positions, including as a mechanic at a Kawasaki motorcycle shop. Coppersmith owned several motorcycles over the years.
"He had a particular passion for Harley-Davidson," recalled longtime friend and colleague David Beauchamp of TSRI's Procurement Department. "Outside of work, it was motorcycles, family and fishing."
Coppersmith fished in both fresh and salt water and had what Beauchamp calls one of the best collections of saltwater fishing lures and tackle in the state.
Coppersmith is survived by his wife, Marjie; his two adult children, Jason and Shannon; six grandchildren, Ben, Gabe, Isabelle, Jude, Eli and Luke; and many friends.
A tribute page on the TSRI website has been created in Coppersmith's honor at https://www.scripps.edu/tribute/home/tribute_page?id=170
Send comments to: press[at]scripps.edu