Scripps Research Hosts First Recruitment Day
Industry managers will come to campus on Wednesday, June 9 to speak with Scripps Research postdoctoral fellows and graduate students.
Cheltsov Wins DOD Prostate Cancer Fellowship
Research Associate Anton Cheltsov has won a Postdoctoral Traineeship Award from the Department of Defense Prostate Cancer Research Program. He was selected on the basis of his project, "Computational Search for Novel Antagonists to the Metastatic Mutant Forms of the Androgen Receptor," through a highly competitive peer review process.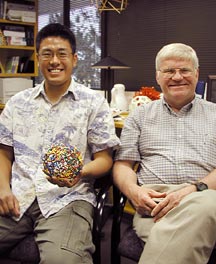 Turning a PAGE on Protein Dynamics
In a paper appearing this week in the journal Molecular Cell, Professor Jack Johnson and graduate student Lu Gan use a standard biochemical technique in a novel way to understand the dynamics of a molecular machine.