Four Leading Scientists to Join Scripps Florida Faculty
Investigators Patrick R. Griffin, John Hogenesch, Chris Liang, and Teresa Reyes will be among the first investigators to join the new Scripps Research facility in Palm Beach County, Florida.
Ervin Owens Named Scripps Florida Human Resources Manager
"I'm tremendously excited about the opportunity of joining Scripps Florida as it establishes itself," says Ervin Owens.
On Press: A Quorum Detected
Precursor molecule DPD signals a critical concentration of bacteria.
Siemens Tees Off to Support Scripps Florida
Florida executives from Siemens Corporation teamed up with several of their clients to compete in a friendly round of golf last month, raising money to support The Scripps Research Institute and Scripps Florida.
Babior Wins Trevor Slater Award
Scripps Research Professor Bernard Babior has been selected as the 2004 recipient of the Trevor Slater Award, a career prize presented by the International Society for Free Radical Research.
O'Malley and Dale Receive Graduate Fellowships
Kellogg School of Science and Technology graduate student Daniel O'Malley has won the National Defense Science and Engineering Fellowship Award for Graduate Study. Kellogg School graduate student Trevor Dale has won a fellowship from the Natural Sciences and Engineering Research Council of Canada.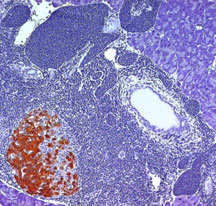 A New Hypothesis About Autoimmunity—Is It Possible to be Too Clean?
"Autoimmunity has [traditionally] been considered a condition of too much stimulation," says Professor Nora Sarvetnick. "What we are seeing is that it is a condition of too little stimulation."