Ervin Owens Named Scripps Florida Human Resources Manager

The Scripps Research Institute has announced the appointment of Ervin Owens as human resources manager at the newly established Scripps Florida in Palm Beach County. Beginning this week, Owens, 49, will manage non-faculty recruitment, hiring, personnel practices and policies, and staff training for the Florida facilities.
Owens comes to Scripps Florida with more than 15 years experience in Fortune 500 companies, including senior human resources and labor relations positions with Motorola, Inc., Kraft General Foods, and General Motors Corporation. Most recently, he has served as an independent human resources consultant with SharpHR Associates in Deerfield Beach, Florida.
"Ervin brings wide experience and deep knowledge of human resources policies and practices to Scripps Florida and to The Scripps Research Institute," said Judith Munoz, Scripps Research vice president of human resources. "He also knows the state and local labor market, as well as human resources issues and regulations particular to Florida. He will be a very valuable addition to our new operations."
"I'm tremendously excited about the opportunity of joining Scripps Florida as it establishes itself in Florida," Owens said. "Individual by individual, we will build a research institution of world-class quality that benefits the people of Palm Beach County, contributes to the economic health of the state, and improves human health worldwide."
Owens served as director of Human Resources for the 3,800-employee Motorola, Inc., facility in Boynton Beach, Florida from 1994 to 2001. Prior to that, he was with Kraft General Foods for four years, rising from plant human resources manager in Memphis, Tennessee, through regional human resources manager in Glenview, Illinois, to manager of human resources in San Antonio, Texas.
From 1985 to 1990, Owens held a number of human resources positions with General Motors Corporation in Warren, Michigan, culminating as senior labor relations representative.
After receiving a bachelor's degree in Education and a master's in Education Administration from Central Michigan University, Mt. Pleasant, Owens served as a vice principal and program coordinator for the Atlantic City, New Jersey, public schools, and then as director of the Office of Minority Affairs and assistant to the director of student life at his alma mater in Michigan.
Owens serves on the Board of Directors of the Palm Beach County Chapter of the National Urban League.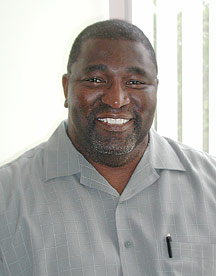 Ervin Owens comes to Scripps Florida with more than 15 years experience in Fortune 500 companies. Photo by Kevin Fung.