Shapiros Endow Fellowship in Summer Internship Program
"We hope this gift will enable young people, especially women and minority students, to come into contact with basic research and be inspired by its possibilities," says TSRI Trustee Ralph Shapiro, who, with his wife Shirley, has given $100,000 to the Education Outreach Program.
TSRI Copes with Fallout from Fires
"The fires have had an emotional impact on many of us here," says Keith McKeown, vice president of communications and public relations for TSRI. "Thankfully, the physical facilities at the institute remain intact and we are back to science as usual."
Boger, Babior Elected AAAS Fellows
Professors Dale L. Boger and Bernard Babior have been elected American Association for the Advancement of Science (AAAS) fellows, an honor bestowed upon members by their peers. Boger was cited for "outstanding developments in the synthesis and understanding of the structure-activity relationship of complex natural products of medicinal importance." Babior was cited for "pioneering studies in unraveling the function and physiology of the human neutrophil."
Chisari, Vogt Elected to Institute of Medicine
Francis Chisari and Peter Vogt have been elected to the Institute of Medicine of the National Academies. New members are elected from among candidates nominated for their professional achievement and commitment to services by current active members.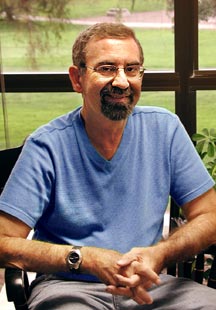 $11.4 Million CDC Grant Goes to TSRI to Study Immune Response to Anthrax Toxins
The U.S. Centers for Disease Control and Prevention (CDC) has awarded a group of TSRI researchers a multi-year, $11.4 million grant to study the interaction of the human immune system with toxins of the bacterium Bacillus anthracis, the causative agent of the disease anthrax.