Seminar Offers Tips on How to Get Your Partner to Help Around the House
"In general, everyone thinks they're doing too much [housework], and many feel that their partners aren't doing enough," says Jeff Jones of TSRI's Counseling and Postdoctoral Services Department.
Snapshot: Clark Grininger
Meet Clark Grininger of TSRI's General Clinical Research Center.
Ernest Beutler Awarded E. Donnall Thomas Prize
The American Society of Hematology has awarded Ernest Beutler, TSRI chair of the Molecular and Experimental Medicine Department, the E. Donnall Thomas Lecture and Prize, which recognizes pioneering research achievements in hematology.
Ollmann Saphire Wins 2003 Sidhu Award
Assistant Professor Erica Ollmann Saphire, TSRI Class of '01, has been selected for the 2003 Sidhu Award from the Pittsburgh Diffraction Society for "the best contribution to crystallography or diffraction by an investigator who obtained the Ph.D. after September 1998."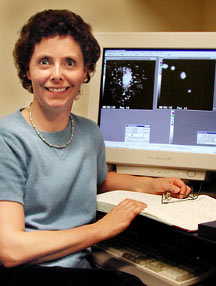 Targeting Breast Cancer Metastasis
Associate Professor Brunhilde Felding-Habermann is investigating methods to interfere with metastasis—a dangerous phenomenon in which cancer cells separate from a tumor mass, move through the bloodstream, anchor down in a distant tissue or organ, and begin a new cancer.