Tawana Young
Title: Senior Administrative Assistant.
Duties: "I help Dr. Shattil keep the lab running smoothly." Duties include ordering supplies and equipment, having equipment repaired, maintaining general upkeep of the lab, assisting with grant preparation, tracking grant budgets, coordinating with the TSRI International Office to keep team members' visas up-to-date, coordinating with TSRI Human Resources to bring in new team members and maintain personnel records, submitting request for payments, and generally helping out those in the lab and others in the building. "My most recent challenge has been helping Dr. del Pozo, who has recently been promoted to an assistant professor, start up his new lab."
Favorite Parts of Job: "The best part of the job is the people! I enjoy nurturing people in the lab, and helping them get through another day. They know if they ask me to do something, it will be taken care of. And I enjoy spoiling them by bringing in chocolate..."
Challenges: "Saying 'goodbye' when a lab member has finished his or her scheduled training."
Started at TSRI: 1994
Background: Grew up in Michigan. Moved to San Diego in 1977. Worked for General Dynamics for 11 years; a public school district for a year (in a brief stint back in Michigan); and a research department at General Atomics for a year. She applied for a job at TSRI because she was "looking for more of a challenge."
Family Life: Remarried in May 2003. The newlyweds live with her daughter, age 19, and her son, age 15, and spend weekends and summer breaks with his daughter, age 7.
Extracurriculars: "I like the simple things in life." Helping out in her son's school and sports leagues. Ushering and working in the nursery at her church. Family vacations, especially road trips to places like the Grand Canyon, Las Vegas, and campsites outside of Los Angeles and San Francisco.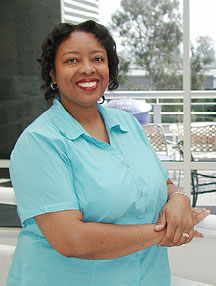 "The best part of the job is the people!" says Senior Administrative Assistant Tawana Young. Photo by Kevin Fung.