In Brief
Science Education: Interdisciplinary Training Programs
TSRI investigator Elizabeth Getzoff, who co-directs La Jolla Interfaces in Science, is among the authors of a recent article in Science magazine, "Enhanced: Educating Future Scientists," which addresses the challenges and opportunities presented by interdisciplinary training programs.

Goodsell Rises to Visualization Challenge
Associate Professor David Goodsell was awarded second place in the Illustration category for his "Macrophage and Bacterium 2,000,000x" in the first annual Science and Engineering Visualization Challenge sponsored by Science and The National Science Foundation. See the winning entries in a slide show format: at http://www.sciencemag.org/cgi/content/full/301/5639/1472a/DC1.

Symposium: "Signalling Pathways"
Vascular Biology Affinity Group will host a symposium, "Signalling Pathways: From Extracellular Sites to Gene Expression," on Friday, November 7, from 10 AM to 4 PM. Speakers will include:
Tony Hunter, professor at The Salk Institute;
Charles Esmon, investigator at Oklahoma Medical Research Foundation;
Thomas Sato, professor at the University of Texas Southwestern Medical School;
Jack Dixon, professor at the University of California San Diego;
Eric Olson, professor and chair of the Department of Molecular Biology, University of Texas Southwestern Medical School.
The event will be held in the Valerie Timken Amphitheater , Scripps Clinic, 10666 North Torrey Pines Road. For more information, contact Ann Canter, x4-7923.

Traffic Update
Construction continues on North Torrey Pines Road to install a sewer system serving the Torrey Pines Mesa. From Monday, September 22 to Tuesday, September 30, crews will be working between La Jolla Shores Drive and Muir College Drive, where traffic will be limited to one lane in each direction.

Lunch and Learn: How to Meditate
Norma Jean Deak and Diana Shimkus, both licensed social workers, will speak on "Techniques for Establishing a Daily Meditation Practice" on Wednesday, September 24 from noon to 1 PM. The event will be held in the W.M. Keck Amphitheater, Beckman Center for Chemical Sciences. For more information, contact Jan Hill, x4-2950.

How Old Do You Think I Am?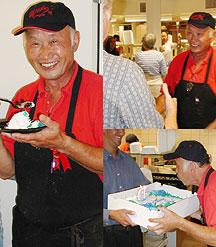 Andrew Shih of the cafeteria celebrates his birthday with TSRI well-wishers. Photos by Kevin Fung.