TSRI Investigators Top Angewadte Chemie List
TSRI investigators figure prominently in a list of the most downloaded articles in 2002 from international chemistry journal Angewadte Chemie. Articles by K.C. Nicolaou are listed as first, second, and nineteenth. Articles by K. Barry Sharpless are listed fourth, eighth, and twenty-fourth. And an article by Julius Rebek, Jr. is listed fourteenth.
Ollmann Saphire Wins Burroughs Wellcome Career Award
TSRI Senior Research Associate Erica Ollmann Saphire, TSRI class of 2001, has been selected as a recipient of a 2003 Burroughs Wellcome Fund Career Award in the Biomedical Sciences. The award provides $500,000 over five years for young scientists, spanning the period that includes their advanced postdoctoral training and their early years as a faculty member.
Snapshot: Class of '03
Facts and figures on the graduating class.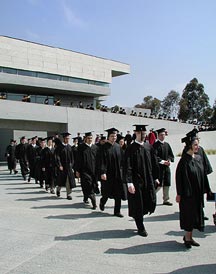 TSRI Holds 11th Commencement
Twenty-nine students graduate from TSRI's Kellogg School of Science and Technology. Daniel Koshland, Jr., professor emeritus at the University of California, Berkeley, and TSRI Trustee John Moores receive honorary degrees.


Clip from the commencement:
Hi-res Real Media | Quicktime
Lo-res Real Media | Quicktime