TSRI Holds 11th Commencement
By Mika Ono
For 29 young men and women of The Scripps Research Institute's (TSRI) Kellogg School of Science and Technology, life will never be quite the same. Yesterday, they were Ph.D. candidates. Today, they are Ph.D.s.
To mark the occasion, TSRI celebrated its 11th commencement on May 16 in a ceremony that also awarded two honorary degrees—to distinguished scientist Daniel E. Koshland, Jr., who gave the keynote address, and businessman, philanthropist, and TSRI trustee John Moores.
TSRI President Richard A. Lerner welcomed the audience and introduced the program, noting that this is the first year students have graduated from TSRI's Ph.D. program under its new name, The Kellogg School of Science and Technology. The program was named in honor of philanthropists Janet R. ("Jean") Kellogg and W. Keith Kellogg II in 2002.
Jeffery Kelly, vice president for academic affairs and dean of graduate studies, spoke about the 14-year old graduate program in biology and chemistry, which is widely recognized for excellence. Not only is it ranked in the top 10 in both chemistry and biology by U.S. News&World Report, schools across the country have emulated TSRI's multidisciplinary approach to graduate education, according to Kelly.
"Extraordinary quality... is the standard and hallmark of this program," Kelly said.
Honoring Honorary Degree Recipients
Kelly then introduced Koshland and Moores, elaborating on how TSRI and other institutions select honorary degree recipients.
"Honorary degrees recognize individuals who contribute by example—that is, through exemplary science and business achievements, or by being philanthropic," Kelly noted. "These are people whose work shakes their profession and leaves a lasting impression on their disciplines. In the case of this year's honorees, John Moores and Dan Koshland, I can't think of better examples of individuals who epitomize these selection criteria."
Koshland, who has funded fellowships in TSRI's Kellogg School, himself graduated in 1941 with a B.S. in Chemistry from the University of California, Berkeley. During World War II, Koshland served as a group leader in the Manhattan Project, in the effort to chemically purify plutonium. After the war, he attended graduate school at the University of Chicago, where he made a breakthrough in the synthesis of glucose molecules selectively labeled with radioactive carbon—an important advance for the study of metabolism.
After postdoctoral work at Harvard University, Koshland joined Brookhaven National Laboratory and The Rockefeller University. During this time, he postulated the "induced fit" hypothesis, which was revolutionary when he first proposed it as a model for enzyme catalysis. In 1965, Koshland accepted a professorship at his alma mater, the University of California, Berkeley. There, he conducted research on enzymology and enzyme mechanisms—particularly allosteric interactions, bacterial chemotaxis, and the relationship of enzymes in the nervous system to memory and behavior. At Berkeley, Koshland led the Department of Biochemistry and the University of California Chancellor's Advisory Council on Biology, which oversaw a massive reorganization of 17 departments in the biological sciences. Formerly editor-in-chief of Science magazine, Koshland has received numerous awards and honors, including the Albert Lasker Award for Special Achievement in Medical Science, the National Medal of Science, the Pauling Award from the American Chemical Society, and the University of California Alumnus of the Year Award.
Moores received a B.S. in Economics from the University of Houston and a J.D. from that institution's Bates College of Law. While in school, he worked for IBM and Shell Oil Company. In 1980, after working as an independent software consultant, Moores founded BMC Software, Inc. (BMC), where he wrote the initial highly successful software products at BMC that improved mainframe computer operating system performance. He served as CEO of BMC until 1987 and chairman until January 1992. Moores is currently chairman of the San Diego Padres Baseball Club, which he acquired in 1994. He is chair of the University of California Board of Regents and member of the TSRI Board of Trustees.
For more than 10 years, Moores has been one of the most generous philanthropists in the world, devoting much of his own personal wealth to a wide variety of causes around the globe. Recently, he gave $17 million to TSRI and was instrumental in establishing The Institute for Childhood and Neglected Diseases at TSRI.
"The Future Belongs to You"
Koshland stepped up to the podium to give a lively, humorous, and often provocative talk focusing on the state of science today.
Addressing the graduating students, he said: "I'd like to discuss two features of science that will be very important to your future. The first is what I'd call incrementalism, the fact that great benefits from science to society are the result of the work of many scientists over many years—not one person who suddenly in a flash of genius understood the whole concept...."
"The second feature of science that you will find to be important," he continued, "[is] that it is much fun to carry out!"
Koshland noted there are many problems left to be solved in today's world—from cancer to famine to oil spills. Are we really making progress? Or are we just replacing old problems with new ones?
"Scientific discoveries do improve the world, even if they inevitably produce new problems," Koshland said. "The new problems, as difficult as they are, are less horrendous than the old ones. That brings us to the future. And that future belongs to you—the class of 2003."
As Koshland finished his address, the graduating students' advisors stepped up to speak about each student and his or her scientific accomplishments at TSRI. Associate Deans Stephen Mayfield and James Williamson helped Kelly to adorn the graduating students with their ceremonial blue and black hoods.
Lerner concluded the commencement ceremony: "As candidates for the degree of doctor of philosophy, you have submitted yourselves to the traditional disciplines that become the scholar in the pursuit of knowledge and have proved yourselves worthy of this high calling....
"You may now move the tassel to the left side of your mortarboard."


Clip from the commencement:
Hi-res Real Media | Quicktime
Lo-res Real Media | Quicktime


The 2003 commencement procession sets out, passing the statue "The Flame of Knowledge," dedicated to the memory of Norton B. Gilula, the first dean of the graduate program. Photo by Kevin Fung.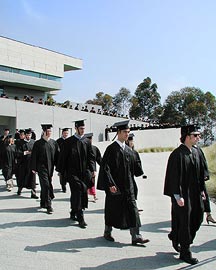 Twenty-nine of 200 students in TSRI's Kellogg School of Science and Technology are members of this year's class. Photo by Kevin Fung.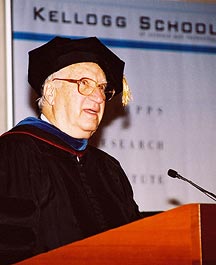 Distinguished scientist Daniel E. Koshland shares his thoughts about the state of science today. Photo by Jason S. Bardi.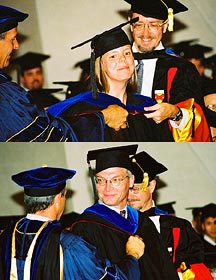 Graduates are fitted with ceremonial hoods. Photo by Jason S. Bardi.

Businessman, philanthropist, and TSRI trustee John Moores receives an honorary degree. Photo by Jason S. Bardi.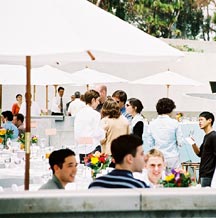 A luncheon on the terrace of the Neurosciences Institute followed the ceremony, celebrating the graduates many accomplishments. Photo by Jason S. Bardi.