In Brief
Dickerson Wins National Individual Research Service Award
Graduate student Tobin Dickerson of the Janda lab has received a predoctoral National Individual Research Service Award from the National Institute on Drug Abuse, National Institutes of Health. His research concerns a nicotine metabolite, nornicotine, and its chemistry in the body. He is now investigating specific implications of aberrant nornicotine protein glycation in disease states such as Alzheimer's disease and cancer.

Personal Skills for Life and Work: "Boundaries, Part 2"
Jan Hill and Jeff Jones of the Employee and Graduate Student Counseling Department will present "Boundaries: Part 2" on Wednesday, March 19, from noon to 1 PM. Topics will include respectful communication, how to balance needs (yours and others), and challenges in boundary setting. The seminar will be held in Suite 205, Second Floor Training Room, 3377 North Torrey Pines Court Building. For additional information, contact Hill at x4-2950.

Submissions for Scientific Report Due May 2
All submissions for the 2003 Scientific Report are due at noon on Friday, May 2.
This year you may submit your report in one of two ways:
1) By putting your submission on a disk and giving it with a printout to your departmental administrator (as reports have been submitted in the past),
2) By sending a file via email to Jann Coury of the Office of Communications at jcoury@scripps.edu and giving a printout to your departmental administrator.
Guidelines for the submission of reports will be sent to the principal investigators and administrative assistants the week of March 17. PDF files of the guidelines are also available online.
In addition, for investigators who hold joint appointments in The Skaggs Institute for Chemical Biology, the Skaggs Institute submissions will be due Friday, September 12. Letters and guidelines will be sent to the members later this summer.

Gluck Child Care Center Is Accepting Kindergarten Applications
The Maxwell H. & Muriel Gluck Child Care Center, an institution affiliated with TSRI and located at 10660 John Jay Hopkins Drive, is accepting applications for the 2003-04 school year kindergarten program. Features of the program include:
A small class size of 12 children; o Individualized instruction;
A stimulating learning environment;
A weekly Spanish program;
Strong programs in math, science, language arts, and reading;
Creative arts, music, drama, and physical education;
A teacher who has a degree and 10 years of teaching experience;
Care from 6:45 AM to 6:45 PM;
Limited holiday closings.
Call (858) 455-5220 for details on fall enrollment.

TB Screenings, Hepatitis B Immunizations, Serum Draws, and Tetanus Shots
On Monday, March 24, Wednesday, March 26, and Friday, March 28, personnel from Sharp Rees-Stealy Medical Group will be on-site to conduct TB screenings, Hepatitis B immunizations, serum draws, and tetanus immunizations. The clinics will be conducted at the Administrative Offices (3301 North Torrey Pines Court) on the P1 level from 11 AM to 2 PM. No appointments are necessary. TB screening requires a 48 to 72 hour follow-up. Individuals receiving the TB screen on Monday will need to return on Wednesday, and individuals screened on Wednesday, will need to return on Friday. Initiation of the TB screening process will not be available on Friday, but Hepatitis B immunization, serum draws, and Tetanus immunizations will be. To learn more about these programs, see the Environmental Health & Safety Occupational Medicine web page which includes a map and patient information sheets.


Award-Winning Biomedical Graphics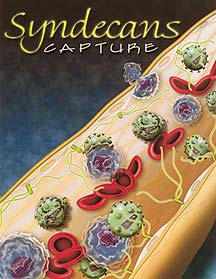 Peggy Myer, Computer Graphics Artist, BioMedical Graphics Department, is the recipient of an Award of Excellence from the BioCommunications Association's (BCA) BioImages annual competition. Peggy's entry, "Syndecans Capture," was selected from BioImages' Graphics category and the award was presented March 1 at BCA's 73rd annual meeting in Las Vegas, Nevada.