Faculty Promotions:
Friedlander, Han, Havran Receive Tenure
TSRI investigators Martin Friedlander, Jiahuai Han, and Wendy Havran have been promoted to the rank of associate professor with tenure.
Board Welcomes Sullivan as Chair, Elkus and Herrling as New Trustees
At the February meeting of the TSRI Board of Trustees, retired judge Hon. Alice D. Sullivan became the Board's new chair. Sillicon Valley entrepreneur Richard J. Elkus, Jr. and Novartis executive Paul Herrling joined as trustees.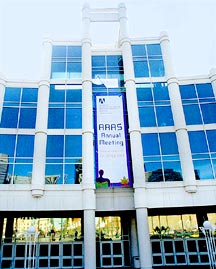 Outstanding Talks, Weather, and Free Pens in Denver
TSRI Science Writer Jason Bardi reports on the conference experience and the 2003 Meeting of the American Association for the Advancement of Science.
On Press:
Researchers Make First Sugar Arrays