Board Welcomes Sullivan as Chair, Elkus and Herrling as New Trustees
The Scripps Research Institute (TSRI) Board of Trustees welcomed retired judge Alice D. Sullivan as its new chair and two industry leaders—Sillicon Valley entrepreneur Richard J. Elkus, Jr. and Novartis head of Corporate Research Paul Herrling—as new trustees.
Chair of the Board Hon. Alice D. Sullivan (Ret.)
Sullivan assumed the position of chair of the board at the trustee meeting in early February. Sullivan, who earned her J.D. from Santa Clara University School of Law, served as a judge in Alameda County from 1981 to 1989 and as a judge on the California Superior Court from 1989 to 1992.
Sullivan is founder and chief executive officer of Private Judge, a firm in Del Mar that provides expertise in the resolution of business disputes, particularly in the life science and technology fields. Over the last 10 years, she has mediated over 1,000 cases and has served as an arbitrator in more than 100 cases.
In addition, Sullivan is a frequent lecturer and trainer in mediation and civil law topics, speaking at such institutions as Santa Clara University, Del Mar Foundation, The Rutter Group, San Diego Intellectual Property Law Association, Department of Commerce/Federal Trade Commission, American Bar Association, and The State Bar of California.
While welcoming Sullivan to the position of chair, the Board unanimously passed a resolution expressing its appreciation to outgoing chair John D. Diekman, whose leadership was "marked by deep dedication, unflagging energy, and great enthusiasm."
Trustee Richard J. Elkus Jr.
Elkus is an executive and entrepreneur whose career has been intimately connected with the development and evolution of Silicon Valley. He has integrated his business career with service on committees and in organizations involved in promoting economic competitiveness through national and international policy development.
His current positions include:
CEO and co-chair of Voyan Technology, which provides model-based adaptive control systems to the semiconductor, storage, and communications industries;


Director of KLA-Tencor, the world's largest supplier of metrology and defect inspection equipment and yield management systems to the semiconductor industry;


Director of Lam Research, one of the six largest manufacturers of production equipment for the semiconductor industry;


Director of SOPRA, SA, a leading French company supplying metrology equipment to the semiconductor and medical industries; and


Director of Virage Logic, a leading supplier of intellectual property architecture of the semiconductor industry.
Previously, he was chair and CEO of Prometrix Corporation, which he co-founded in 1983. Prometrix revolutionized the concept of computerized wafer mapping that is now fundamental to the analysis of wafer development and production in the semiconductor manufacturing process. Prometrix merged with Tencor and later with KLA, becoming KLA-Tencor.
From 1985 to 1992 Elkus was director and finally chair of Integrated Systems, Inc. Prior to that, he held positions at Geometrics and Acacia Sales. After graduating from Stanford University and Dartmouth College's Tuck School of Business Administration, Elkus spent the first 10 years of his career at Ampex Corporation, where he wrote the original product plan and headed the team that introduced the VCR in September 1970.
Trustee Paul Herrling
Herrling is head of Corporate Research at Novartis, which has core businesses in pharmaceuticals, consumer health, generics, eye care, and animal health. He is also head of the newly created Novartis Institute for Tropical Diseases in Singapore, which advances medical research in progressive infectious and parasitic diseases. Herrling also oversees the Friedrich Miescher Institute in Basel, Switzerland.
Prior to his current position at Novartis, Herrling was head of Global Research at Novartis Pharma and a member of the Pharma Executive Committee. In this capacity, he directed the integration of the research organizations of Sandoz and Ciba-Geigy following their merger in 1996. Herrling had joined Sandoz in 1975, rising to head of Corporate Research by 1994.
In addition, Herrling, who obtained his doctorate in 1975 from the University of Zurich, is professor of Drug Discovery Science at the University of Basel, Switzerland and adjunct professor at TSRI's Harold L. Dorris Neurological Research Center.
Herrling serves on the boards of a number of institutions, including: the Genomics Institute of the Novartis Research Foundation in La Jolla, the Board of Trustees Novartis Foundation in London, Board of Trustees Foundation Maison de la Chimie in Paris, and the TSRI-Novartis Joint Scientific Council in La Jolla.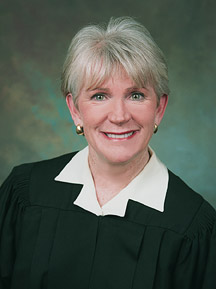 Alice D. Sullivan is a retired California Superior Court judge and founder and chief executive officer of Private Judge, a firm that provides expertise in the resolution of business disputes.