Snapshot: Grants Administrator Tim LeFort
Meet Tim LeFort, a 14-year veteran of the Office of Sponsored Programs.
Art show puts spotlight on Vogt's watercolors
An art show on display at the UCSD faculty club until August 26 features about 20 of Professor Peter Vogt's recent paintings.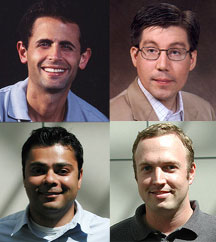 The Case for Activity-Based Proteomics

In what Associate Professor Benjamin Cravatt calls the first practical application of a new proteomics technology, a paper in the August 6th issue of Proceedings of the National Academy of the Sciences describes the application of the approach to cancerous cells. An article with Associate Professor Erik Sorensen in the August issue of Nature Biotechnology shows how this technology can be further expanded to cover more of the proteome.