In Brief
SOF Distinguished Lecturer Series to Feature Max-Planck Institute Director
As part of the TSRI Society of Fellows Distinguished Lecturer Series, Alfred Wittinghofer, professor and director of Max-Planck Institute for Molecular Physiology, will speak on "GTP-Binding Proteins: News and Views on a conserved Switching Module" on Wednesday, August 21, at 4 PM. The lecture will be held in the Green Hospital Building's Timken Auditorium.

Hatefi Retires
TSRI Professor Youssef Hatefi has retired. Hatefi, born and raised in Teheran, Iran, came to the United States for his college and postgraduate education. He received a Ph.D. in biochemistry from the University of Washington, then spent four years at the Institute for Enzyme Research, affiliated with the University of Wisconsin. He joined the staff of the Research Institute of Scripps Clinic in 1963 and has been with the institute ever since, although in the 1960s he held a simultaneous appointment at the University of Shiraz in Iran. His research has focused on mitochondria, a field to which he has made numerous important contributions, including his discovery of the mitochondrial electron transport complexes. He has received many honors for his work, including the Bond Award of the American Oil Chemists Society and the Scientific Medal of Honor from the Ministry of Education in Iran.

TSRI Security Guard Brings Home Two Medals
TSRI Security Guard Karl Thorpe placed third in both the 60-meter and 100-meter dash in the recent California Senior Games State Championships, 60 to 64-year-old Age Division. Thorpe, who trains several times a week, ran the 60 meter in 7.83 seconds and the 100 in 15.43 seconds. "My goal is to make it to the Nationals," he says. Thorpe, who worked as an autobody technician for 40 years, has been with TSRI since 1997.
Staff Retirements
TSRI staff members who recently retired include:
Glasswasher Helen L. Bowerman,
Molecular and Experimental Medicine Senior Administrative Assistant Susan K. Burke,

Look for Next News&Views August 26
The next issue of News&Views, which is published every other week throughout the summer, will be posted by Monday, August 26. The deadline for announcement and calendar submissions is Wednesday at noon for the following Monday's publication.

Medal Winner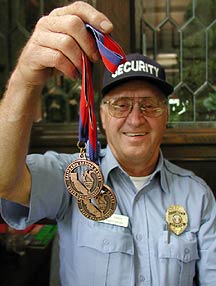 Security Guard Karl Thorpe holds up two medals he won in the California Senior Games State Championships. Photo by Kevin Fung.
An Art Show on Display at the UCSD Faculty Club until August 26 Features about 20 of Professor Peter Vogt's Recent Paintings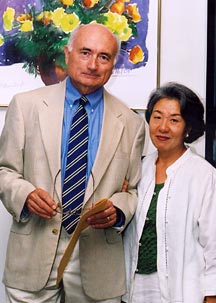 Renaissance Man TSRI scientist Peter Vogt and his wife, Hiroko Vogt, attend a reception at the UCSD faculty club to kick off a show of his watercolors. Photo by Jason S. Bardi.