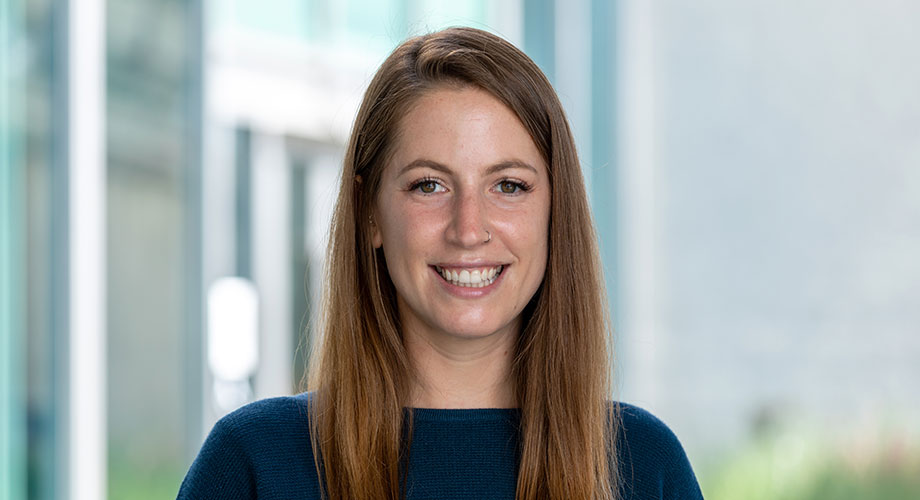 Scripps Research's Danielle Grotjahn named 2023 Pew Scholar in the Biomedical Sciences
The award will support Grotjahn's study of how cells assemble the molecular machinery that governs programmed cell death.  
June 13, 2023
---
LA JOLLA, CA– Danielle Grotjahn, PhD, assistant professor in the Department of Integrative Structural and Computational Biology at Scripps Research, has been selected to join the 2023 Pew Scholars Program in the Biomedical Sciences.
The program will provide four years of funding to support Grotjahn's research identifying the molecular interactions that occur when a cell undergoes programmed cell death, and how this process is disrupted during different disease states.
"I am profoundly grateful to receive this prestigious award and join the ranks of the accomplished Pew Scholars and scientists who have been honored before me," says Grotjahn.
Grotjahn's lab focuses on the structural intricacies of the mitochondria—microscopic components traditionally thought of as the "powerhouse of the cell," but that could now also be viewed as a cellular sensor of genetic, pharmacological and environmental stress. Grotjahn is studying how mitochondria change shape to dictate cell fate—in other words, whether a cell activates pathways to stay alive and keep growing and propagating, or whether a cell initiates programmed cell death, known as apoptosis. Her lab is focused on uncovering the different mechanisms that ultimately lead to mitochondrial dysfunction, such as during cancer and neurodegeneration.
This requires Grotjahn and her team to pioneer technologies that can bridge multiple disciplines, including cellular, molecular and structural biology. Her lab uses cryo-electron tomography (cryo-ET) and correlative light and electron microscopy (CLEM)—cutting-edge imaging techniques that can capture cellular networks at an incredibly high resolution. By discovering the intricacies of mitochondrial dynamics in a variety of contexts, the lab hopes to reveal novel therapeutic targets for the treatment and prevention of various chronic diseases.
Grotjahn joins 21 other scientists in this year's Pew Scholars Program in the Biomedical Sciences, which is designed to provide funding to young investigators of outstanding promise in science relevant to the advancement of human health. The program makes grants to selected academic institutions to support the independent research of individuals who are in their first few years of their appointment at the assistant professor level.
"This new class of scholars embodies the creativity and curiosity that is key to scientific discovery," said Craig C. Mello, PhD, a 1995 Pew scholar, 2006 Nobel laureate in Physiology or Medicine, and chair of the national advisory committee for the Scholars Program. "With support from Pew and its network of colleagues and advisors, I am confident this group will do great things to advance biomedical science."
In addition to this award, Grotjahn was the recipient of the Harold M. Weintraub Graduate Student Award from Fred Hutch, an Achievement Rewards for College Scientists (ARCS) Foundation fellowship, the Baxter Young Investigator Award and consecutive Damon Runyon-Rachleff Innovator Awards.
Grotjahn earned her doctoral degree at Scripps Research where, under the mentorship of structural biologist Gabe Lander, PhD, she helped solve the first three-dimensional structure of the dynein complex bound to microtubules. She then completed a postdoctoral position at the California Institute of Technology, before joining the Scripps Research Fellows Program in 2018.
---
For more information, contact press@scripps.edu See More News