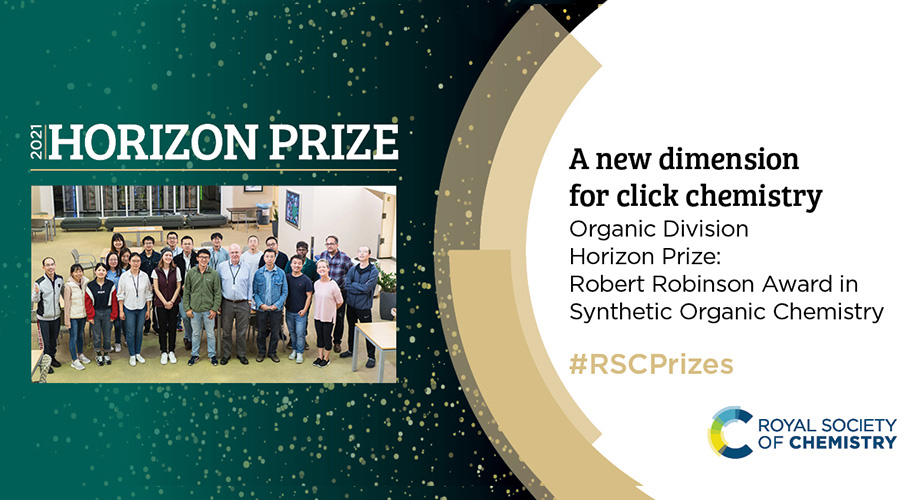 K. Barry Sharpless and team named winners of 2021 Royal Society of Chemistry prize for 3-D 'click chemistry'
The Scripps Research scientists are part of a large collaborative team to win the 2021 Robert Robinson Award in Synthetic Organic Chemistry.
July 12, 2021
---
LA JOLLA, CA—Professor Karl Barry Sharpless, PhD, and his Scripps Research team, part of a collaborative international group of investigators, are being honored by the Royal Society of Chemistry for their development of a technology called "multidimensional click chemistry" that's opening up new possibilities in biomedicine, materials science and beyond.
The team—which also includes scientists from Cold Spring Harbor Laboratory and University of California, San Francisco—has won the society's 2021Organic Division Horizon Prize, known as the Robert Robinson Award in Synthetic Organic Chemistry.
Click chemistry is a method of synthesizing larger molecules by combining smaller "modular" chemicals together, similar to how LEGO® bricks click together, using very reliable reaction chemistry. The click reaction occurs quickly and irreversibly with minimal byproducts in the context of complex biological environments, allowing these reactions to occur in the context of a living cell. But until recently, these connections resulted in predominately flat, or two-dimensional connectors, and were limited to uniting two modules. Multidimensional click chemistry takes it to a new level, extending bond creation into the three-dimensional world.
The potential applications of multidimensional click chemistry are many because the technology serves as an enabling tool to access a much larger chemical world. One important application includes drug discovery; in one instance, chemists were able to use the reaction to create a strong antibiotic from a weaker one overnight.
Since 2001, when Sharpless published his seminal paper on click chemistry, the reactions have been used to create vast libraries of potential drugs for HIV, diabetes, Alzheimer's, Parkinson's, cancer and many other diseases. The method can precisely screen thousands of molecules for specific desirable properties at a speed that was unthinkable just 20 years ago, shaving years off of research timelines.
In collaborations between the labs of Sharpless and Jeffery Kelly, PhD, as well as Dennis Wolan, PhD, and Peng Wu, PhD, at Scripps Research, the Robinson awardees used small molecules capable of sulfur exchange click chemistry to match the small molecules with the proteins that they react with.
"The Sharpless group discovered sulfuramidimidoyl fluorides, and our group showed that these so-called SAFs can react selectively with proteins creating 3D linkages that inhibit the function of the protein within living cells" says Kelly, Lita Annenberg Hazen Professor of Chemistry.
Using the biocompatible SuFEx click chemistry, the Wolan and Sharpless labs developed a high-throughput, hit-to-lead process that has demonstrated success in producing drug-like inhibitors. Many of these molecules have more than hundred-fold greater potency than compounds identified by conventional drug discovery approaches, and can discovered within a matter of weeks, rather than months.
"The robust nature of SuFEx click chemistry offers the potential for post-polymerization modification, enabling the synthesis of materials with control over composition and conformation," says Wu, associate professor in the Department of Molecular Medicine.
The Royal Society of Chemistry's Awards and Prizes are awarded in recognition of originality and impact of research, or for each winner's contribution to the chemical sciences industry or education. They also acknowledge the importance of teamwork across the chemical sciences, as well as the abilities of individuals to develop successful collaborations.
---
For more information, contact press@scripps.edu See More News