Source: Interfolio F180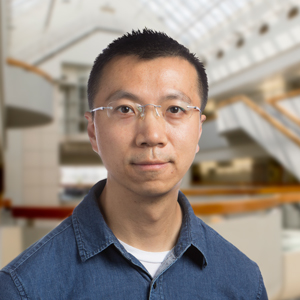 Peng Wu
Email
---
Research Focus
The research in the Wu laboratory integrates synthetic chemistry with glycobiology to explore the cellular and molecular mechanisms that control immune responses toward cancer and human pathogens.

Cell-cell interactions play critical roles during immune responses against cancer and human pathogens, in which the productive interaction of antigen-presenting cells and T cells is required for the successful priming of "adaptive" T-cell responses. On the other hand, chronic antigen stimulation leads to T-cell dysfunction. Bystander T cells that recognize irrelevant antigens are also enlisted in such pathological processes. However, we know little about the precise contributions of endogenous antigen-specific and bystander T cells during the course of a natural pathogen infection and cancer progression. Due to their heterogeneous compositions, it is challenging to elucidate their properties.

The focus of my lab is to develop new chemical approaches to probe cell-cell interactions in these processes. We are interested in detecting endogenous antigen-specific T cells and separating them from bystander T cells with the goal of understanding the specific roles and functional differences of these two T-cell subsets in an immune response, how T cells' reactivity is linked to their functional state, and how to improve persistence and replication potential of antigen-specific T cells for treating infection and cancer.

Molecules presented on the cell surface determine how cells interact with their partners and their environment. In the cancer-immunity cycle, a process initiated by the release of cancer cell antigens and ended with the destruction of cancer cells, the interaction of Siglecs (Sialic-acid-binding immunoglobulin-type lectins) with sialylated glycan ligands modulates immune cell-tumor cell interactions, triggering signaling cascades to inhibit anti-tumor immune responses. We are developing unnatural Siglec ligands using sulfur (VI) fluoride exchange (SuFEx) click chemistry to explore if ligands with sufficiently high affinity and specificity can be identified to block the endogenous Siglec-ligand binding at the immunological synapse formed between immune cells and target cells and if such ligands can be employed to engineer immune cells with desired properties for therapeutic applications.
---
Education
Ph.D. (Chemistry), The Scripps Research Institute, La Jolla, CA, 2005
M.S. (Chemistry), Indiana University, Bloomington, IN, 2001
B.S. (Chemistry), Peking University, Beijing, 1999
---
Professional Experience
2021-Present Professor, Molecular Medicine, Scripps Research
2017-2021 Associate Professor, Molecular Medicine, Scripps Research
2015-2017 Associate Professor, Chemical Physiology, Scripps Research
2013-2014 Associate Professor, Albert Einstein College of Medicine
---
Awards & Professional Activities
2005 Skaggs Predoctoral Fellow
2006 Howard Hughes Postdoctoral Fellow
2007 MBL Pioneers Scholarship and Herbert W. Rand Fellowship
2007 NIH Pathway to Independence Award
2011 DuPont Young Professor Award
2013 David Y. Gin Young Investigator Award
2013 Visiting Fellowship, Pembrook College, University of Oxford, UK
2014 Kavli Fellow, National Academy of Sciences
2015 Chinese-American Chemistry and Chemical Biology Professors Association Biomatik Distinguished Faculty Award
2020 Horace S. Isbell Award, Division of Carbohydrate Chemistry, American Chemical Society
2021 Horizon Prize (Robert Robinson Award in Synthetic Organic Chemistry), The Royal Society of Chemistry
2021 Glycobiology Significant Achievement Award, The Society for Glycobiology
2021 OKeanos-CAPA Senior Investigator Award at the Chemical and Biology Interface, Chinese-American Chemistry and Chemical Biology Professors Association (CAPA)
---
Selected Publications
Hong, S.; Yu, C.; Wang, P.; Shi, Y.; Cao, W.; Cheng, B.; Chapla, D. G.; Ma, Y.; Li, J.; Rodrigues, E.; Narimatsu, Y.; Yates, J. R.; Chen, X.; Clausen, H.; Moremen, K. W.; Macauley, M. S.; Paulson, J. C.; Wu, P. Glycoengineering of NK Cells with Glycan Ligands of CD22 and Selectins for B-Cell Lymphoma Therapy. 2021, 60, 3603-3610.
Chen, M.; Li, J. P.; Li, W.; Liu, Z.; Shi, Y.; Teijaro, J. R.; Wu, M.; Wu, P. Detecting Tumor Antigen-Specific T cells via Interaction Dependent Fucosyl-biotinylation. Cell 2020, 1117.
Feng, L.; Guo, P.; Hong, S.; Hou, X.; Jiang, H.; Marlow, F. L.; Stanley, P.; Wu, P.; Yang, Y. In Situ Fucosylation of the Wnt Co-receptor LRP6 Increases Its Endocytosis and Reduces Wnt/ß-Catenin Signaling. Cell Chemical Biology 2020, 1140-1150.e4.
Hong, S.; Sahai-Hernandez, P.; Chapla, D. G.; Moremen, K. W.; Traver, D.; Wu, P. Direct Visualization of Live Zebrafish Glycans via Single-Step Metabolic Labeling with Fluorophore-Tagged Nucleotide Sugars. 2019, 58, 14327-14333.
Hong, S.; Shi, Y.; Wu, N. C.; Grande, G.; Douthit, L.; Wang, H.; Zhou, W.; Sharpless, K. B.; Wilson, I. A.; Xie, J.; Wu, P. Bacterial glycosyltransferase-mediated cell-surface chemoenzymatic glycan modification. 2019, 10, 1799.
Briard, J. G.; Jiang, H.; Moremen, K. W.; Macauley, M.; Wu, P. Cell-based glycan arrays for probing glycan-glycan binding protein interactions. Nature Communications 2018, 9.
[View]