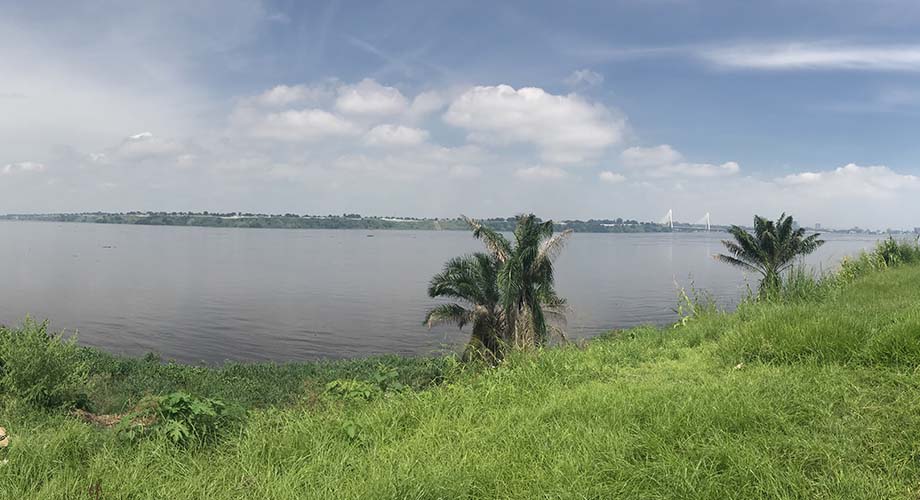 Scientific detective work reveals important clues in case of rare Ebola relapse in Central Africa
A man became sick for a second time with Ebola, an extremely rare event, and sparked a transmission chain of more than 90 cases.
April 05, 2021
---
LA JOLLA, CA—In December 2019, in the Democratic Republic of the Congo, a man who had already been sick with Ebola fell ill with the virus once again. Because there were no recorded incidents of this having happened before, it gave rise to many urgent scientific questions. Among them: Should other survivors be worried—especially those who work in Ebola treatment units due to their supposed immunity?
Answers were needed, fast.
Scientists in the Scripps Research lab of Kristian Andersen, PhD—together with collaborators at the Democratic Republic of Congo's national medical research organization Institut National de Recherche Biomédicale, the University of Nebraska Medical Center in Omaha, and teams from multiple other institutes around the world—began piecing together the puzzle using genomics, epidemiology and computational analysis. 
The many findings that resulted from their scientific journey are documented in an article that appears in the New England Journal of Medicine.
"It is very rare for someone to have Ebola twice—in fact, aside from two cases of partial relapse in repatriated Western health care workers, this has not been observed and has never led to onward transmission of the virus before," says Matthias Pauthner, PhD, a former post-doctoral researcher at Scripps Research who was part of the research team. "What's more common, although still very rare, is that some survivors may harbor the virus in their body and infect others after they recovered, which we've seen in a few instances. This case report provides an unfortunate proof-of-principle that Ebola survivors themselves, albeit in very rare instances, may indeed relapse and transmit the virus."
Importance of global collaboration
Andersen says the study was made possible by the effective genomic surveillance network set up by Congolese scientists to rapidly respond to outbreaks.
"By working hand-in-hand with local researchers in the North Kivu province of the Democratic Republic of Congo and sharing information with other teams of scientists and medical professionals around the world, we were able to produce important findings quickly," Andersen says. "These kinds of partnerships and collaborations are essential to mobilizing during an outbreak." 
The new journal article shares many details that emerged through rigorous scientific investigation in the weeks and months after the unusual Ebola case emerged.
The patient, a 25-year-old man who worked as a motor taxi driver, became sick again 149 days after being discharged from an Ebola treatment unit, where a blood test had shown at the time that he was clear of the virus. Upon his second illness with Ebola, he sparked a transmission chain of 91 cases, including 29 direct infections, as he and others didn't suspect he could have the virus again. He visited two community health centers and eventually was seen at a specialized Ebola clinic, eight days following onset of symptoms, but died the following day.
A case with many questions
By analyzing samples of the virus's genome from the man's second infection in December and comparing it with the virus that originally infected him in June, the scientists determined the man's more recent infection arose from his first bout of Ebola.
The newer virus sample was nearly identical, with only two mutations, signaling that he did not catch the disease from another person in December 2019 but relapsed from his original infection.
However, many other questions remained. The team learned, for example, that the man originally contracted the disease despite being vaccinated against Ebola months before. They were able to track down other instances of this, reflecting that the vaccine was not as protective as believed at the time, though it is largely very effective.
Also, they learned the man was treated with a so-called "therapeutic monoclonal antibody" after being diagnosed with Ebola the first time, as many Ebola patients in this particular outbreak were. One theory is that such antibody treatments, in rare instances, may prevent the body's intrinsic immune response from producing the robust protection that it would during the regular course of disease.
To rule out the possibility that the man may have had a rare immune disorder, which could have explained his relapse, the team in the Democratic Republic of Congo sequenced his full genome to look for various telltale markers. They found none.
Pauthner says the virus most certainly was lingering undetected in the patient's body, though it's not clear where. It may have been in cerebrospinal fluid, testes, or even in his eye, as had been shown in other cases of survivors harboring the disease.
"Relapse of Ebola is still a very uncommon event, but it needs to be recognized as a rare possibility and warrants further investigation and education in order to support survivors, healthcare workers and their communities," Pauthner says. "Researchers are working hard to gain a better understanding of the mechanism and risk factors of relapse in order to help prevent future transmission events, such as the one we saw in this case. Understanding the potential benefits of vaccinating survivors is also an area that warrants further investigation."
The article, "Ebola Virus Transmission Initiated by Relapse of Systemic Ebola Virus Disease," was authored by several dozen researchers and medical professional from multiple organizations. Authors from Scripps Research include Matthias Pauthner, Karthik Gangavarapu, Elias Salfati, Ali Torkamani and Kristian Andersen. (For a full author list, view the journal article.)  
The work was supported by the Bill & Melinda Gates Foundation, the National Science Foundation Graduate Research Fellowship Program, Pew Biomedical Scholarships, the National Institutes of Health, the National Cancer Institute and the Fogarty International Center of the NIH.    
---
For more information, contact press@scripps.edu See More News