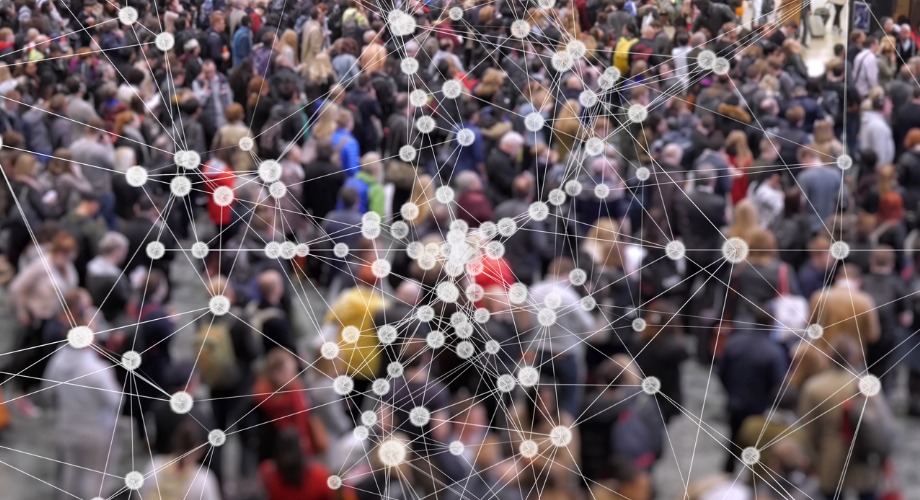 Scientists and public health officials use genomics to understand how COVID-19 spreads in San Diego, neighboring regions
With funding from the Centers for Disease Control and Prevention, scientists at Scripps Research and UC San Diego are sequencing the virus to help guide local outbreak response.
November 12, 2020
---
LA JOLLA, CA—As communities in San Diego and surrounding areas continue to grapple with outbreaks of COVID-19, public health experts are turning to genomics to help track the sources and spread of the disease. Scientists at Scripps Research and UC San Diego who specialize in genomic epidemiology are collaborating with local and state health officials to study how SARS-CoV-2, the virus that causes COVID-19, moves throughout the region—with the ultimate goal of containing the disease.
Rapid viral genome sequencing during active outbreaks is a relatively new development, made possible in recent years by advances in sequencing technologies. By analyzing genomic data, scientists are able to reconstruct how the virus makes its way through a community or region, providing valuable information to public health officials.   
The Scripps Research laboratory of Kristian Andersen, PhD, and the UC San Diego School of Medicine laboratories of Rob Knight, PhD, Louise Laurent, MD, PhD, and Gene Yeo, PhD, MBA, recently received a $2.5 million contract from the Centers for Disease Control and Prevention to support this work. The group originally began collaborating in March 2020 when they formed the San Diego Epidemiology and Research for COVID Health (SEARCH) alliance, with a focus on understanding the prevalence and spread of SARS-CoV-2 among local healthcare workers and first responders.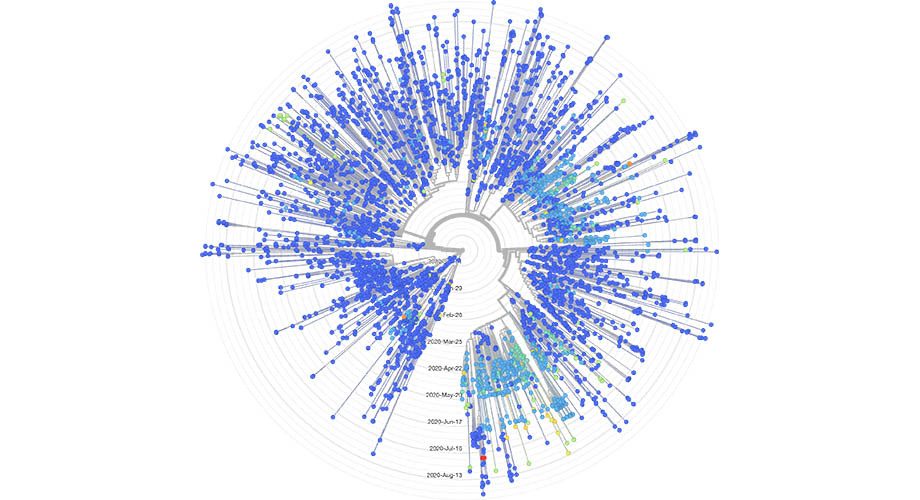 The new funding from CDC enables the team to continue working closely with colleagues at San Diego County Public Health Services on outbreak investigations at universities, skilled nursing facilities and other establishments shown to be at high risk of superspreading events. Using specialized sequencing equipment, the scientists decode virus samples and pinpoint tiny genomic changes that represent a family tree of sorts. By visualizing the virus's lineage, they can draw conclusions about how the pathogen was likely transmitted.
"Genomics is a powerful tool to deepen our insight into how the virus is moving through our community," says Eric McDonald, MD, medical director of the Epidemiology and Immunizations Services branch for the San Diego County Health and Human Services Agency. "As a result of this partnership, we're looking forward to integrating real-time viral sequencing and the resulting genomic data into our countermeasures to stop the spread of SARS-CoV-2." 
In addition to local efforts to track the spread of the virus, the team is also collaborating with state officials to generate SARS-CoV-2 genomic data from across California, as well as investigating cross-boarder spread between the United States and neighboring Baja California, Mexico.
Preliminary analyses indicate that the outbreaks in San Diego and Tijuana are connected, and that the virus continues to move in both directions between the two closely connected cities. This work is being done in conjunction with the CDC's SPHERES consortium and the California COVID-NET program.
According to Andersen of Scripps Research, other findings suggest that early on, there were a large number of introductions of the virus into the San Diego region—although many of those early introductions did not end up causing wide-scale transmission chains, suggesting that early containment measures in San Diego were successful.
All the genomic data generated through this project is immediately made publicly available to the scientific community in an effort to accelerate discoveries and to promote open science.
"As members of the community here in San Diego, my colleagues and I want to bring all our expertise and resources to bear on the many public health challenges of COVID-19," says Knight of UC San Diego. "I'm heartened by the way that our local scientists, clinicians and public health officials are working together to gain the upper hand on this virus."
---
For more information, contact press@scripps.edu See More News