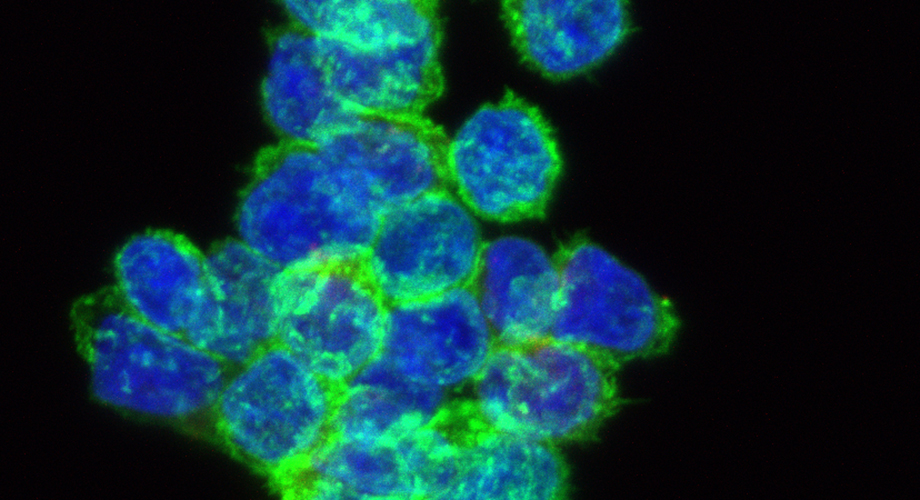 AbbVie and Calibr announce collaboration for next generation T-cell therapies
AbbVie (NYSE: ABBV), a research-based global biopharmaceutical company, and Calibr, a nonprofit drug discovery division of Scripps Research, today announced a collaboration to develop T-cell therapies aimed primarily at cancer, including solid tumors.
June 25, 2018
---
This collaboration broadens AbbVie's oncology research to access advanced precision medicine technology to expand the development of potentially life-changing treatments for patients with cancer.
Chimeric Antigen Receptor T-cell (CAR-T) therapies harness the power of a cancer patient's own immune system to attack and destroy cancer cells. Despite promising results in hematological malignancies, current CAR-T therapies in development for solid tumors have demonstrated limitations due to rapid activation and expansion of CAR-T cells that can lead to serious adverse events. Calibr's novel cell therapy program, led by Travis Young, PhD, director of protein sciences at Calibr, is designed to enhance safety, versatility and efficacy through a proprietary modular "switchable" CAR-T cell that uses antibody-based switch molecules to control the activation and antigen specificity of CAR-T cells.1 Calibr's proprietary technology may enable the development of universal CAR-T-based treatments across several types of hematological and solid tumor indications.
"Calibr has assembled a premier scientific team and developed an innovative cell therapy technology that can take us to the next frontier of cancer treatment," says Mohit Trikha, PhD, vice president and head of Oncology Early Development at AbbVie. "The combination of AbbVie's oncology discovery and early development expertise and Calibr's novel switchable CAR-T therapy platform aims to advance the current standard of care, with the potential rapidly advancing new treatment options for patients."
"We're delighted to work together with a strong partner like AbbVie to expand the impact of the CAR-T cell field to a broader range of cancers," says Peter Schultz, PhD, chief executive officer of Calibr and Scripps Research. 
Under the terms of the license agreement, AbbVie will pay Calibr an upfront license fee and gain exclusive access to Calibr's switchable CAR-T platform for a term of up to four years. The two organizations will work together to develop T-cell therapies directed to solid tumor targets identified by AbbVie. AbbVie also has the option to develop additional cell therapies toward AbbVie-nominated targets and license existing Calibr cell therapy programs under development for hematological and solid cancers, including Calibr's lead program. Calibr plans to enter this lead candidate into clinical studies for lymphoma in 2019. In addition, the agreement provides AbbVie with an option to acquire an exclusive license to Calibr's switchable CAR-T platform and programs within the first four years of the collaboration. The companies will share responsibility for preclinical development, with AbbVie responsible for clinical development and commercialization, and Calibr eligible to receive success-based milestone payments and royalties. The transaction is subject to clearance under the Hart-Scott-Rodino Antitrust Improvements Act.
1 PNAS 2016, http://www.pnas.org/content/113/4/E459
About AbbVie
AbbVie is a global, research and development-based biopharmaceutical company committed to developing innovative advanced therapies for some of the world's most complex and critical conditions. The company's mission is to use its expertise, dedicated people and unique approach to innovation to markedly improve treatments across four primary therapeutic areas: immunology, oncology, virology and neuroscience. In more than 75 countries, AbbVie employees are working every day to advance health solutions for people around the world. For more information about AbbVie, please visit us at www.abbvie.com. Follow @abbvie on Twitter, Facebookor LinkedIn.
About Calibr and Scripps Research
Calibr is a first-of-its kind non-profit translational research Institute dedicated to creating the next generation of medicines. Part of Scripps Research and situated in the heart of San Diego's Torrey Pines Mesa biomedical research hub, Calibr is uniquely positioned to create and proliferate innovative partnerships. Calibr has created a broad therapeutic pipeline extending from early stage discovery through clinic-ready programs, including candidate medicines ranging from small molecules and peptides to biotherapeutics and cell-based therapies.
Scripps Research is ranked the most influential scientific institution in the world for its impact on innovation. A nonprofit research organization, Scripps expands basic knowledge in the biosciences and uses these fundamental advancements to develop profound innovations that improve well-being. Scripps researchers lead breakthrough studies that address the world's most pressing health concerns, accelerating the creation and delivery of medical breakthroughs to better human health across the globe. Our educational and training programs mold talented and committed students and postdocs into the next generation of leading scientists.
For more information about Calibr and Scripps Research visit www.calibr.org and www.scripps.edu Follow @ScrippsResearch on Twitter, Facebook or LinkedIn.
AbbVie Media Contact:
Adelle Infante 
1.847.938.8745
adelle.infante@abbvie.com 
Investor Contact:
Liz Shea
1.847.935.2211
liz.shea@abbvie.com
Calibr and Scripps Research Media Contacts:

Chris Emery
Scripps Research
1.858.784.2207
cemery@scripps.edu
Jessica Yingling, PhD
Little Dog Communications Inc.
1.858.344.8091
jessica@litldog.com
---
For more information, contact press@scripps.edu See More News